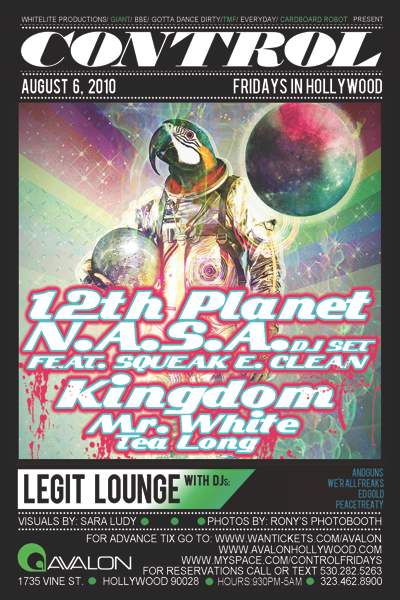 I was just thinking the other week, "I really hope that we can get another massive dubstep night going at CONTROL soon," and fortunately my wish was granted as the don of LA dubstep, 12th Planet, will be headlining this Friday alongside a DJ set by NASA and a rare West Coast performance by Brooklyn producer Kingdom, who has just released a new EP on Night Slugs titled That Mystic. All you bassheads better be in attendance.
Please RSVP names to JONAH@GOTTADANCEDIRTY.COM
to be on our discount ticket guest list for the night. Have all emails in by 8pm on Friday evening. Pricing will be as follows:
We'll also be having the
GDD™
House Party room going on again every week now, so come on in and introduce yourself we'd love to meet you dirty dancers! The room is located conveniently in between the front-right of the main stage and the smoking patio.
• Kingdom – That Mystic (link removed by request)
***
PS – Next week will be Wolfgang Gartner + Harvard Bass + Skrillex + Valerna + ///BONES! Get pumped.