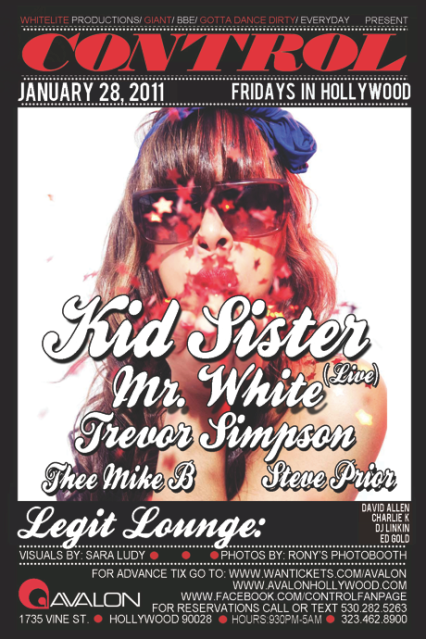 The absolutely stunning Kid Sister will be performing live tonight at CONTROL at the Avalon in Hollywood. This Windy City woman has been the voice to some great dance tracks in the past few years, including the big track by Mehdi and Riton in 2o10 titled 'Do Do Do' that was made into a monster remix by the legendary Laidback Luke. Supporting her will be SF's Trevor Simpson, as well as local LA talent from Mr. White, Thee Mike B, and Steve Prior.
We will also be holding down the GDD™ House Party room tonight with our friends from Techno Color Kids as well as the lovely ladies of TrippensoXx, so come have a drink with us in the room directly to the right of the front of the stage.
Please RSVP names and pluses to jonah@gottadancedirty.com to be on our discount ticket list for the evening. Please have all names submitted before 5:30pm. Discount for 21+ is $10 before 11pm.
Tunage:
• Carte Blanche ft. Kid Sister – Do! Do! Do! (Strip Steve Jacked Up Remix)
From The Vault:
• The Count & Sinden ft. Kid Sister – Beeper (A-Trak Remix)
• Kid Sister – Daydreaming (Jakwob Remix)
_________
♥

jonahberry