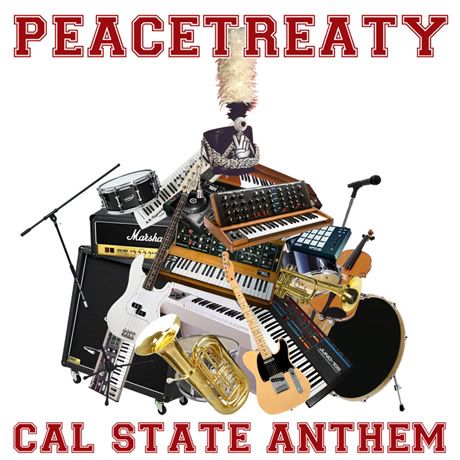 As if the original's weren't daunting enough for any crowd to withstand, our boys Peacetreaty have released a gargantuan (yes, had to use that) remix package on Dim Mak for their new 2 track EP. A-side Cal State Anthem is a huge collaboration with BC's Kissed With A Noise, and features remixes by Metropolis, Cold Blank, Lazrtag, Religion, Sharooz, Tom Piper, Urchins and Valerna. If that didn't just make an accident in your pants, the massive B-side 'Change' features remixes by Apster, Dan Oh, Dem Slackers, Flinch, and a show-stopper by our personal friend Mr. White (featured in my ///Halloween Mix). The EP came out this week, so check out the preview teasers below (check the soundcloud for which remix is which!) and buy it on Beatport!
Cal State Anthem ft. Kissed With A Noise – Remix Previews by PeaceTreaty
Change Remix Previews by PeaceTreaty
*and to top it off, were giving a away a full 320 version of Breakdown's remix of Cal State Anthem. Shwing!
• Peacetreaty – Cal State Anthem ft. Kissed With A Noise (Breakdown Remix)
*BUY THE FULL CAL STATE ANTHEM/CHANGE EP HERE ON BEATPORT!
*And if your in Southern Cal, don't miss Peacetreaty's live set @ Beyond Wonderland on March 19th!