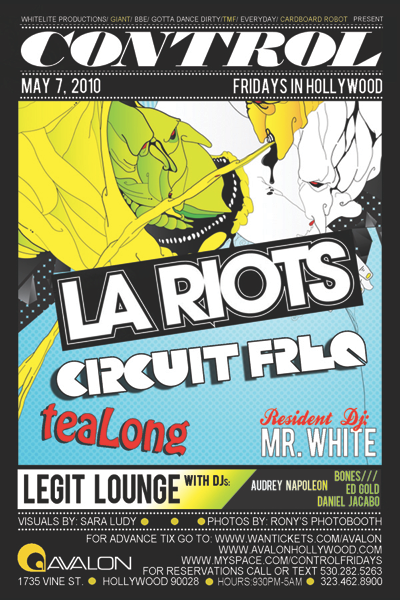 Hey GDD™ nation. Just wanted to update you all on our event this Friday as Brazzabelle has been replaced with Fake Rich's Tealong. On top of that, I was lucky enough to have a fast five questions with Amir Derakh of Circuit Freq today, and he also threw us over a brand new, exclusive re-edit of his most recent single, 'The Filth'. Check it out.
gottadancedirty™
: Thanks for taking the time to answer a few Q's with us Amir. Sticking to GDD tradition, what is your usual drink order? We'll grab one for you this Friday at the Avalon.
Amir Derakh: Haha OK! My usual weapon of choice is Grey Goose on the rocks with Soda Water and lots of Limes.
gdd: So you used to be in the very successful band, Orgy, going platinum with the huge album 'Candyass' back in the late 90s. What made you leave that behind to focus more on your new project Circuit Freq?
AD
: Orgy became very dysfunctional towards the end of 2000 unfortunately and the funny thing is, we never broke up… We have been on hiatus since Ryan (the other guitarist in Orgy) and I started our new band Julien-K. We talk to the other guys regularly but haven't played together since 2003. Since then we released one Julien-K album, landed songs in movies and video games like Transformers and Underworld and have done a number of remixes for other artists. Most recently the Cure. We are currently working on the follow up JK album. Last year we also released an album by another band we are in called Dead By Sunrise and just got back from an amazing world tour. So to finally answer your question, I never really left all that behind…
I've also been a working DJ for 15 years and with the surge of electronic music that started a few years back I decided to get back in the game. That's how Circuit Freq came about. Fu (the other half of CF) and I fucking love club music and remixing so we decided to just do it after my friend Joel (Deadmau5) suggested it. Simultaneously we started our label Circuit Freq Records which releases our own music as well as other artists. Our latest release is a "Best Of" compilation with remixes by the likes of Zodiac Cartel, Electrixx, Stupid Fresh & Felix Cartal included.
LINK to label
.
gdd
: Would you say that rock music is now being overshadowed by the recent escalation in fans of electronic music?
AD: No, but electronic music is gaining ground very quickly! No way to know how big it will get or when it is going to peak (no pun intended haha) but its definitely heading there fast. I'm VERY excited that its happening now! As this is my favorite genre of music…
gdd: Where do you see Circuit Freq going? I saw on your Facebook that you are planning on getting a live performance together. What will this include?
AD
: All the bands that I'm in have some sort of electronic element to them especially Julien-K which is a hybrid rock/electronic act. Right now a Circuit Freq show is just my DJ set, but Fu and I are brainstorming to put together a live set, while watching performance technology advance. At some point when we have enough material and we find the right gear to do what we want we'll move to a hybrid DJ/ band performance worthy of the name "Circuit Freq".
gdd: What should we expect from your set this Friday? Will it get the kiddos dancing dirty?
AD
: I play pretty hard Electro House mostly but I do like to cross genres occasionally with Indie, House, Techno and Breaks. Of course I will be playing some Circuit Freq! I have a new Edit of "The Filth" I will be playing and I'm also offering it up to your followers exclusively here.
gdd
: Thanks so much again Amir. I really appreciate it I'll see you on Friday.
REMEMBER to RSVP for this Friday at jonah@gottadancedirty.com to be on our discount ticket list. It's going to be a good time. I promise.
Thank you for reading. The reward is filth: