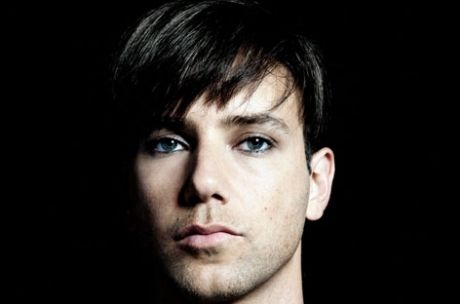 • Tiga announces details of new live show
• Joris Voorn Releases Nobody Knows Remix Package
• Join Black Butter Records @ Movement Afterparty Ft. Gorgon City, Kidnap Kid, MK B2b Lee Foss & More In Detroit This Monday
• SoySauce Release Their Lunch Money EP
Tiga announces details of new live show
Tiga is taking a new live show on the road in 2015. 
The Turbo Recordings founder has nine festival dates lined up across Europe this summer, starting with Berlin Festival on May 29th and wrapping up at Pukkelpop in Belgium on August 20th. The live show, which was developed at Stuart Price's LA studio, sees Jori Hulkkonen joining Tiga onstage. The visual direction was handled by design collective Pfadfinderai, best known for their work with Modeselektor and Moderat, and Helmi (Division Paris), who worked with Tiga on the recent video for "Bugatti." 
In addition to performing some of his best-known tunes—"You Gonna Want Me," "Sunglasses At Night," "Pleasure From The Bass"—Tiga will also perform new, unreleased material produced in collaboration with Hudson Mohawke, Matthew Dear, Boys Noize and Martin Buttrich. 
"For as long as I can remember—which is forever—I've been a DJ," says Tiga. "But it's just not enough anymore. I have performed for thousands, but have I ever truly held anyone's gaze as I sang straight into their eyes? What lies beyond this vulgar, headphone-shaped prison? Can I move the hearts of millions without facing myself first? Will I ever truly own my own madness?" 
He adds: "This summer, grab a front-row seat as these questions become answers. Join me at nine select festivals over the European summer as I embrace all the flawed glory of a perfect past and explore a future too unlimited not to share with everyone. Time means nothing to me now. There is no media. There are no masses. There is only you, me, my voice, my moves, and a love supreme." 
Watch a teaser video for the live show below. 
 May 29  Berlin Festival 2015, Arena Berlin, Berlin

 Jun 06  Parklife 2015, Heaton Park, North

 Jun 18  Sónar 2015, Sónar Festival, Barcelona

 Jul 24  Audioriver 10th Edition, Audioriver, Poland

 Aug 15  Flow Festival 2015 – Day 2, Vilhonvuorenkatu, Finland

 Aug 20  Pukkelpop 2015, Kiewit, Belgium
(via RA)
Joris Voorn Releases Nobody Knows Remix Package 
Joris Voorn's third studio album "Nobody Knows" saw him embark on a atmospheric odyssey, departing his club comfort zone to be named Dance/Electronic album of 2014 by Billboard.
A masterpiece of indie and electronic influences, "Nobody Knows" is now re-presented and remixed by an impressive array of studio talent; a dynamically diverse selection of producers and artists across many genres.
Exquisite reinterpretations ranging from Guti, Roland Klinkenberg, Christian Loeffler and Nightmares on Wax amongst many others; choices which not only represent new fusions but have now come to be a point of pride for both Joris and the label Green in propelling the LP's core personal message even further. Purchase the remix pack here.
Track Listing 
1. The Monk (Kolsch Remix)
2. A House feat. A Kid (Boris Burger Remix)
3. Homeland feat. Matthew Dear (Kruse & Nuernberg Remix)
4. Homeland feat Matthew Dear (&ME Remix)
5. The Wild (Yagya Remix)
6. The Wild (Yagaya Stripped)
7. Sweets for Piano (Ripperton Remix)
8. Sweets for Piano (Sean Piniero Remix)
9. So Long feat. Kid A (Christian Loeffler Remix)
10. Ringo (Guti Remix)
11. Mugged (Anton Pieete Remix)
12. Mugged (Edwin Oosterwal Remix)
12. Momo (Daniel Dubb Version 1)
13. Momo (Daniel Dubb Version 2)
14. Momo (David Douglas Remix)
15. Fall (Nobody Home Remix)
16. Left (Roland Klinkenberg Remix)
17. Dust (Nightmares on Wax Remix)
Tour Dates
5/22 – New York @ Marquee
5/23 – Los Angeles @ Exchange
5/24 – Denver @ Beta
5/25 – Detroit @ Movement
Join Black Butter Records @ Movement Afterparty Ft. Gorgon City, Kidnap Kid, MK B2b Lee Foss & More

Black Butter Records is set to host its official Movement Electronic Music Festival afterparty featuring Gorgon City, Kidnap Kid, MK B2B Lee Foss, and more at Detroit's Populux on Monday, May 25th. Black Butter Records is an internationally renowned record label and event brand that has built a loyal following with its roster consisting of Clean Bandit, Rudimental, Gorgon City, and many more of dance music's leading artists. The UK-based label has announced that it will be taking over Populux in downtown Detroit to keep the party going straight from the festival's final sets through the earlier hours of Tuesday morning. Black Butter mainstay Gorgon City will be making their Detroit debut, while fellow label mate Kidnap Kid will be taking over the decks, amidst a special B2B set from Detroit-native MK and Hot Natured member Lee Floss, as well as performances by Dantiez Sanderson and Loud Luxury. Dance music enthusiasts heading to Detroit will not want to miss this party because it is sure to be one of the hottest events of the Memorial Day Weekend. Tickets are available here.
Hear a New DJ Koze Track
Following on from the news that Pampa label boss, DJ Koze, would head up the 50th instalment in the esteemed DJ-Kicks series, !K7 Records—the label behind DJ-Kicks—has released a full stream of the exclusive DJ Koze track "I haven't Been Everywhere But It's On My List." Brimming with the eclectic samples and good-time feel that we've come to expect from DJ Koze, "I haven't Been Everywhere But It's On My List" can be heard in full below ahead of the compilation release on June 15.
(via XLR8R)
SoySauce Release Their Lunch Money EP
SoySauce has been on the rise ever since their emergence about a year ago. With a catalog including both smash originals and remixes, they've been building a strong reputation that has been strengthened with co-signs from some of dance music's biggest players like Diplo, Benny Blanco, Porter Robinson, and more. Knowing this, it's no surprise that SoySauce has been picked up by AM Only, a leading booking agency that is sure to take their career to new heights. Although they've seen a considerable amount of success so far, they're continuing to pump out quality tunes, as seen by their debut EP, Lunch Money, which is available on iTunes. Check it out below and see what SoySauce had to say about the release:
"We found that kids who qualify for subsidized or sponsored (free) school breakfast and lunch programs are most of the times actually going hungry when they aren't in school. Its actually the weekends during the school year or the summer when kids go hungry the most because they aren't being supported by the programs in school to help get them fed. We want to use the money raised from our EP to help feed those kids on the weekends. We are working with the LA Food Bank and their BackPack program to give kids enough food for six meals over the weekends to make sure they don't go hungry.
We are a social artist project. Our mission is to fight hunger. We like having fun. We want to continue to create shared value. We want to be able to have a hell of a time doing what we do but have a larger echo into the rest of the world with our fans." – SoySauce
Comments
Comments