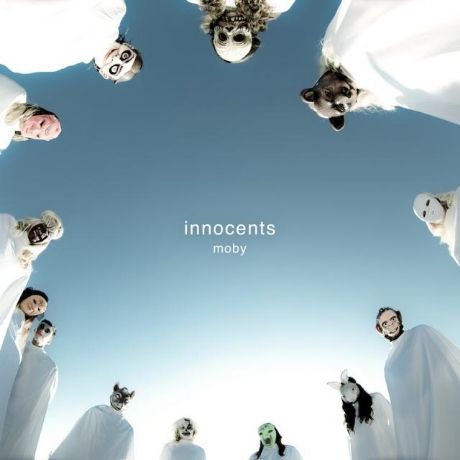 Moby has been on quite the promotional tear of late for his recently released album 'Innocents,' his eleventh studio album to date. After NPR provided fans with the first listen last week, and performing two songs on Conan O'Brien the other night, tonight he'll play the first of three LIVE performances at The Fonda Theatre here in Los Angeles. Tomorrow at 11:15am PST he'll be a guest on KCRW's Morning Becomes Eclectic, and Friday fans will be able to livestream the now sold-out Fonda Theatre show online for free.
All this to promote 'Innocents,' which came out this week on Mute. Get our thoughts on the album after the jump, and if you're in LA tickets for tonight and Thursday are still available HERE!

The album opens with the aptly titled 'Everything That Rises,' an atmospheric instrumental that's a bubbling 4-minute crescendo that foreshadows what to expect over the next hour or so.
The third track on the record, 'Almost Home' is definitely one of the stand out moments. Melancholy crooning over a muted slow-tempo kick, with ethereal strings that thoroughly entrance the listener for the first time on the album.
Not until the fifth track on the album do we get a sense of optimism from the upbeat number 'The Perfect Life.' With backing vocals reminiscent of Pink Floyd's 'The Great Gig in the Sky,' moving lyrics, and a chorus that will make you feel like you're in a Southern Baptist church, it's the best effort on the album for me. Driving around Los Angeles giving the album a first listen, it was definitely the most memorable of the twelve songs put forth on 'Innocents.'
'Don't Love Me' might be the best track to hear live, and will definitely induce the most movement from a crowd's feet. You won't find any real "dance" tracks on here, but this might be the closest thing to it.
All things consider, it's an incredibly cohesive set of songs that definitely do the job an album is supposed to. It's a snapshot of Moby as an artist, not as he's always been, but as he is at this moment. Over decades of artistic achievement he has evolved to the point he is now, and as someone who has great respect for Moby, I love being able to share that moment with him.
There will be some disappointment for those unwilling or unable to listen with an open mind and without expectations, but if you're willing to give one of the defining artists of electronic music a shot at trying something unique and different, you might find yourself delighted with the results. It's not quite what I was expecting, but it sounds irrefutably Moby-esque, he's not trying to be anything but himself, and that's really all you can ask.
Comments
Comments