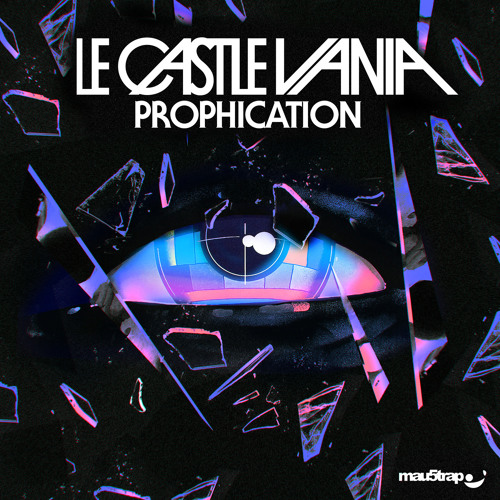 Le Castle Vania has never really taken any prisoners. In a musical landscape where the winds of change knock over the faint of heart or blow them into a field they cannot grow in, Le Castle Vania remains a steadfast entity who is remarkably true to his roots and more powerful than ever before.
The Prophication EP, out now on mau5trap, is a long time coming for the LA-based producer, and in a tongue-in-cheek naming of the title, is an indicator to an even bigger, badder release. It's an immense piece of work; the four tracks each contain an explosive amount of sound engineering and layers, from live strings (done with the help of 300's composer Tyler Bates) to rumbling bass lines.
You can read more about the EP after the jump:

The intro track lays out goosebump-inducing chords with a shaking drum pattern, it's a fitting piece to open the EP and to lead directly into the perhaps most hyped track of the EP: 'Raise The Dead'. Featuring the vocals from Norma Jean singer Cory Brandan, 'Raise The Dead' does what Le Castle Vania does best- cause a head-banging, electro-heavy riot. Signature synth bends and style progressions make for an effective Le Castle Vania track which has been notably successful for a surge in the crowd energy at Le Castle Vania's live shows. 'Disintigration' features MING and Lina Wolf, who deliver extremely powerful vocals that continue to give you goosebumps, while Le Castle Vania forces it all into a crux that cascades into a frenzy of lazers. Finally, 'Incarnation' ties together the EP very nicely with winding pitch bends, massive kick drums, and string builds. Prophication is Le Castle Vania in elevated form… a true biographical piece from the talented producer.
In a way, the Prophication EP elicits the same ratio of energy as it took to make. You can easily tell the time and effort put into every track, with every complex puzzle piece put almost painstakingly together to make every note and sound the best it can be. Unlike other genres and sub-genres and non-genres where music is more simply put together leaving more margin for error, Le Castle Vania's brand of electro requires an impressive amount of fine-tuning and layering, and I'll be damned if that doesn't show through on the EP. Although Prophication contains four rather 'big' tunes, its an exciting window into what's next, ie an album, from Le Castle Vania.
Comments
Comments