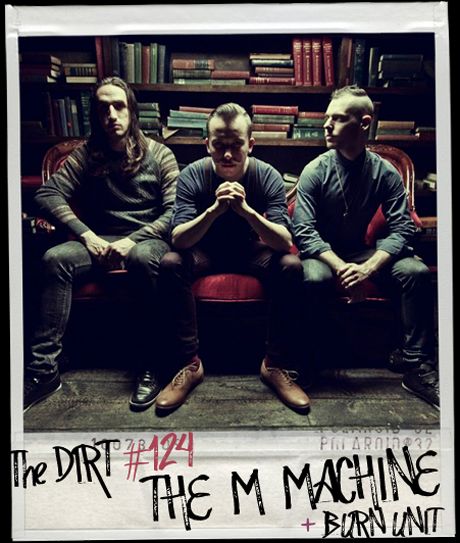 We have a very special edition of The Dirt this week, featuring myself, Burn Unit, and our insanely talented friends better known as The M Machine. Now these guys aren't your average bedroom producers… they're real artists, with vision, dedication, and a unique set of skills that allowed them to completely build and program their own massive light set-up in the shape of a M, and not with the help of major label money or touring revenue. Nope, these boys did it all themselves, with their own six hands.
They've sent over 5 songs by 5 artists that "inspire" them. High praise from some pretty talented individuals. As always, preview the tunes and grab a .zip of the available downloadable tracks after the jump!

The M Machine + Burn Unit: The Dirt #124 .zip
The M Machine's Picks
If you follow The M Machine at all you know we practically worship Siriusmo. There are a tiny handful of producers who can weave together a collection of otherwise disparate sounds to tell a compelling musical story. Wolfgang Gartner is clearly the king of this method within the house context. Skrill does it masterfully in a few genres as well… But within the world of indie/electronica, it is simply the case that no one holds a candle to Siriusmo.
BONUS

Preston Chin (Robotaki) is young, humble, and brilliant. He's contributing a remix for our August Metropolis remix release that is nothing short of beautiful. We happen to be huge fans of Shadow and Little Dragon, but Preston's take on 'Scale it Back' is merely an example of the quality he demands consistently. Its more than worth exploring his entire catalogue.
BONUS

There's a lot of outward criticism towards the homogeneity of recently successful electro house tracks – especially those primarily marketed and sold through Beatport. We don't criticize anyone for playing into a 'current' or 'hot' genre – instead we start to get judgey only when what we're listening to sounds lazy, or lacking in effort. In their 'Trampoline' remix, Monsta perfectly nail that big room-wide-pluck drop that's prevalent right now… but in the context of an awesomely artistic piece of music. A lot of work went into this song and we're pretty sure its going to pay off.
Phonat is an artist that was more consistently on our radar a few years back. But, when we got the promo for his OWSLA release and sat down to listen front to back, it became immediately clear that he's been working HARD. 'Morden Life' plays perfectly into a genre we've been fondly referring to as Space Jazz. We believe artists like Mat Zo, Andrew Bayer, and anyone influenced by some of the deeper cuts off RAM will push this necessarily musical, and experimental style in the coming years – something in which we hope to be involved as well.
BONUS

One of a slew of masterpieces from Bayer's album, If It Were You, We'd Never Leave. Such a cool guy with a delightful music sensibility. We've got nothing but respect for listeners and execs who, like us, see the value in someone as unconventional as Andrew Bayer.
BONUS

Burn Unit's Picks
You can't go wrong with AlunaGeorge vocals on pretty much anything, but throw in DJ Snake into the mix and you've got a recipe for an absolutely stellar track. Your little sister is just as likely to enjoy this song as Gucci Mane is, and that's quite the accomplishment if you ask me.
Judging by the sheer volume of plays young Montreal-based producer Kaytranada has on seemingly every single one of his tracks on SoundCloud, I think it's safe to say I'm late to the party on this one. Having been brought to my attention in the last month, I'm all about his unique fusion of hip-hop, RnB, and house. Also, the vast majority of his tracks are free! Thanks Kaytranada!
GDD™ had the honor of debuting this one for you guys awhile back, and it's been on repeat for me ever since I got it. It's got some beautiful constructed kicks that really suck the air out of the room when listened to on a proper system.
As a child of hip-hop and RnB, I have zero problem with the rampant sampling of classic 90s to early 2000s records in the deep house sphere nowadays. Some say it's a tired trend, but to me music is all about evoking feeling. Hearing songs that meant something to me in a completely different context, 5, 10, 15, 20 years ago, but revamped for the modern dance floor is something I can stand behind. This Adina Howard sampling tune by Route 94 & SecondCity is no exception.
Goldroom's Fifteen pretty much swept the 2012 Summer Songs to Drive To Awards for me, and this clubbed up rework by Oxford was just given away to celebrate Goldroom hitting 50k fans and the original remix hitting 3,000,000 views on YouTube. Classy move. Enjoy.
Comments
Comments