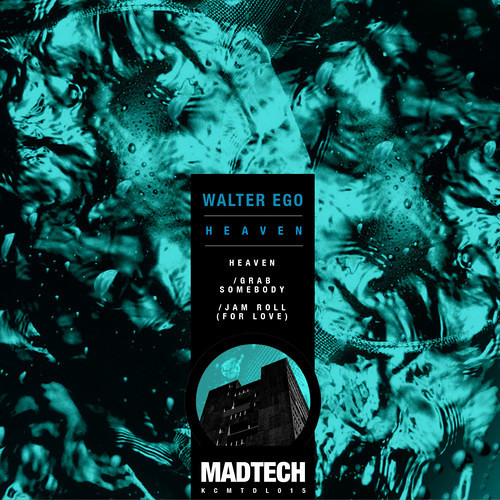 Walter Ego's new EP on MadTech, the Heaven EP, is out next week on August 5th, and it's house-y garage-y goodness. The title track opens up the EP is soulful and warm, big garage vibes, bubbly pads, and soft organs in the background. It has a nice little shift towards the end, sharper drums and slightly more aggressive pads take it to an interesting new level. 'Grab Somebody' is a little bit more energetic, the combination of jazz-influenced hi hats and cuts of acid with what could almost be a xylophone on the chord progression deliver a fascinating and danceable house tune. The last track Jam Roll (For Love) takes things to a deeper and darker place, much more moody synths and pulsating bass. All three are solid in their own right, MadTech really nailed the choices, making the Heaven EP a memorable listen and a great asset for many a variety of DJ crates.
On Monday I hopped back on my favorite social media platform, Twitter, and got to chatting with MadTech Records (specifically James, who heads the label) and the latest artist on their top-notch and busy release schedule, Walter Ego. The boys and I discuss the artistic process, our influences and current musical explorations, food, and much more. You can check the interview behind the jump.
GottaDanceDirty (GDD): Hey guys! Y'all ready for this?
MadTech Records (MT): Yo, BORN READY!
GDD: OK! Let's begin: How are you? What are you up to?
Walter Ego (WE): Recording a mix today. James, am I allowed to say who for?
MT: Not yet, soon!! Doing great, thanks! How about you guys? How's the weather?
@heidi_firminger: Hey MadTech! Loving what you do? What's coming up?
MT: Thanks, lots of great stuff from Walter Ego, Robbie Redway, Miadora, and lots of other bits I can't say!
GDD: Haha, I'm sure we'll find out soon enough! So Walter your new EP "Heaven" is out this week, what's the vibe on it?
MT: More deep MadTech vibes, we loved it as soon as we heard it. Walter is an amazing producer!
WE: Haha, flatterer!
GDD: Well we love both of you so we're excited. Does the EP have any special thoughts/feelings/memories attached?
WE: Yeah, definitely. It's taken a long time to put together and it's pretty emotional stuff. As much as it can be with samples.
GDD: We know plenty of emotional sample-based tunes! What comes first for you, sample choice or song structure?
WE: It depends how crucial to the tune that sample is. Some of my tracks rely more on rhythm.
GDD: What's with the track title of "Jam Roll"? Is that your favorite pastry?
WE: It was a working title that stuck. See, that's an example of structure first. I made a really 'sweet' sounding melodic pad-based house track, which I then called "Jam Roll" to help me remember what it was. Then I added 'for love' on top.
MT: Well, my favorite pastry is a danish… or a chocolaaaaarrr!!!
GDD: Hahahah nice one James! I always find 'working titles' to be the best in the end if you stick with them.
@higheight: A quirky title will make people want to listen too!
WE: Yeah it's true. I always liked how the dubstep act The Others named their tunes after food.
GDD: Remember the days of screamo/pop-punk bands with their super long song titles? Miss those days….
MT: Haha! Brand New, Alexisonfire, Coheed and Cambria…
GDD: LOL James, you know what's up!
MT: Used to LOVE those bands! Until I discovered Mixmag, Pendulum, Kerry Chandler, Faithless, and maaaany more…..
GDD: I still love them 😉
MT: Will ALWAYS have a soft spot for them, no doubt. I owe them a lot!
@higheight: Hey Walter, I love the EP. Who are your main influences?
WE: Wow, hard! I grew up listening to all sorts. Certain elements of my production are very much from garage. People like El B, Bump and Flex, Sunship, Todd Edwards, even grime guys like Youngstarr.
@higheight: Have you ever experimented with making other types of music or is it all about house for you?
WE: Oh mate, check my back catalogue I do all sorts. Grime, garage, UK funky….

GDD: How did you lot get to working together?
MT: Walter sent tracks over and we HAD to put them out, perfect MadTech sound. We're all about forward movement.
WE: [MadTech] are awful. Slave drivers!!! Haha only joking. The process has been smooth, right? MadTech have a really hands on approach. We've met up a fair bit which helps.
MT: Yes, totally. It's great working with like-minded creative people.
GDD: That is awesome and so important. Many labels are so hard for artists to deal with. It's sad to see. But with you guys it sounds like all around good people! MT: We try and be as transparent as possible. We're all the same team at the end of the day, doing what we love!
WE: Yeah, definitely. MadTech didn't A&R me either! Just put out the tracks exactly as I made them.
GDD: What's one thing you wish you had in the studio/office. One essential you must have?
WE: You defo need a good pair of monitors. Especially in a label's office! Can't judge dance music without them! Wish I had a Nord Stage, they're amazing.
GDD: Any favorite electronic & non-electronic acts/albums of recent months?
WE: I caught "The Mouse Outfit" doing an amazing live set the other day with a full band. No samples or nowt. They're UK hip.
MT: Really loving AppleBottom, Lazlo Dancehall, Kingdom, Midland Sound, Paul Woolford, Pusherman…. so many…. and WALTER EGO obviously!
WE: Chubba is killing it too. I also really rate James Blake, as bate as that may be. Like THIS track!!!

GDD: That's one of my favorites from the album! What does 'bate' mean? That word is too British for us!!!!
WE: Bate = obvious
MT: Oh man, Chubba is so dope.

WE: Boddika of course always gets a mention.
GDD: Chubba is a new one for me, gonna check him for sure! All these names sound like a very good Boiler Room lineup!!!
Chubba: Wow, I'm blushing! Stop it!
The feeling's mutual Walter!
WE: Yes Chubba! Do you guys know Mella Dee and Squarehead? Yorkshire dons!

MT: Good lads those guys. Jeeeeez, imagine that lineup….
@AZANDTOR: We love your EP! Tell us about your heaven!
WE: Heaven is a big bag of weed, some quality tunes, and a sunny day!


GDD: If we come visit you in the UK, where would you take us? And where are we taking you in LA?
MT: Gotta go to In N Out Burger, that place is unbelievable. In return we'll definitely take you to @HarvesterUK – unlimited salad bar is something to behold!
WE: You take us to Low End Theory and then you lot can come to Sheffield for a warehouse rave.
GDD: Food and warehouse parties! We don't need anything else to live!
WE: We done then guys, I'm starving haha!
GDD: Yes, that was so fun! Looking forward to your release next week and everything else upcoming from you both!
MT: Wicked, thank you so much guys!
Comments
Comments