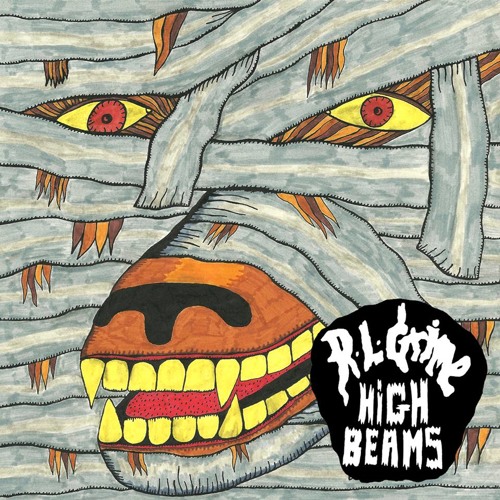 It's been a very, very good year for the skinny-white-boy producers of the world. At the top of the pile shines one in particular: RL Grime (who is currently on tour with a bunch of other skinny white dudes. Brilliant.) Henry Steinway won our artist of the year in our 2012 recap and, judging by the past seven months since then, is on a warpath to take the title once again at the end of 2013. His latest EP High Beams, out today on Fool's Gold, was a long awaited package from the wunderkid and is a bonafide selection of club weapons at their most volatile.
Read the review & purchase/stream the EP after the jump.

The EP begins with 'Pockets' which as I seem to remember is the oldest track of the bunch. It's perhaps the least interesting of all five, with piano chords leading to a vocal drop and booming 808s with reverberating massive synths. I can't be mad at it though, as much as it is somewhat formulaic the individual parts are enjoyable. The second track 'Shells' is oddly my favorite, perhaps due to the melody being the most memorable, perhaps due to his dastardly addition of the whooping siren synths added to the second half. It's compelling and assertive, which amidst the oft-repetitive and stylings of the Beatport Top 10 is a welcome accomplishment. I am happy to admit I will never sarcastically twirl my hand to this song, which my GDD familia knows all to well as an indicator to my boredom. RL Grime brings Problem to the table to lend his rap stylings to 'Secondary'; After falling very short of winning me over on his radio hit 'Like Whaaat?" (I just really can't get over the chorus being what it is…) Problem really smashes it on this, and RL Grime built a solid rap song that has his quirk all over it. The final two tracks, 'CliqCliq' and 'Heard Me', are full of low-end rattles that would do any subwoofer-laden trunk justice. Salva and RL Grime make a hell of a team, every collab track between them has been a huge hit and I already know CliqCliq will prove to be no different.
I'm really impressed by what RL Grime puts on the production table. He is in almost every way the poster child for young, talented, and hungry. It's been a real treat to watch Henry expand his two identities with countless viral productions, an unrelenting tour schedule, and a charming and effortless online presence. Although many claim that "trap" is "just a fad", I struggle to think that Henry's work will disintigrate into the ever-expanding pool of "electronic music". Here's to no sleep for the hater.
Comments
Comments