• Coachella Announces Set Times
• Electric Zoo Phase 1 Lineup—Main Stage West & Main Stage East Headliners Announced
• Watch James Blake's Video for "Overgrown"
• House talents Eats Everything and Justin Martin "30% there" on a full-length collaborative album
• Bomba Ibiza to host Vagabundos
Coachella Announces Set Times
Coachella has announced the set times for this year's festival, which takes place over two weekends: April 12-14 and April 19-21 in Indio, California. Typically for such a huge festival, there are some pretty nightmarish clashes: Grinderman or Purity Ring? Beach House or TNGHT? Divine Fits or Japandroids? Savages or Danny Brown? Kurt Vile, Grimes, or Jessie Ware? Coachella, you monsters. Inspect the timings for the Coachella Stage, Outdoor Theater, Gobi, Mojave, Sahara, and Yuma stages below, and head to the festival's site to check out timings for the Dome and the Do Lab too.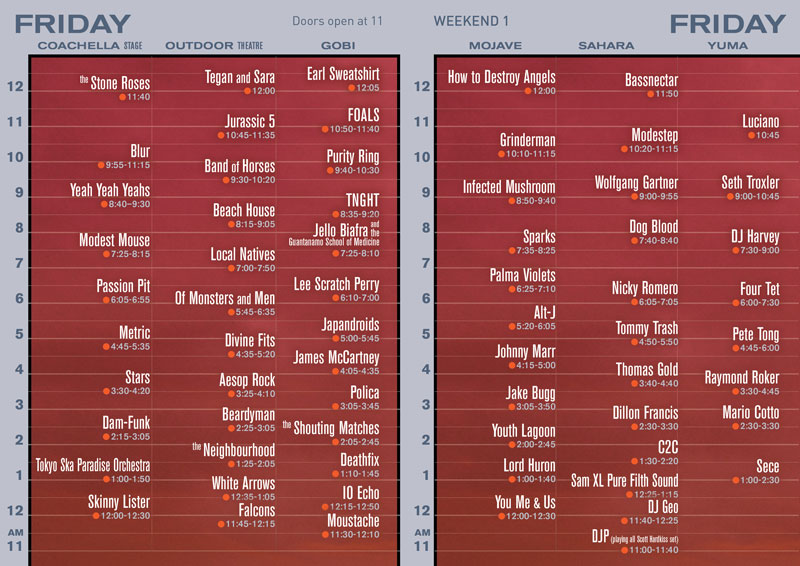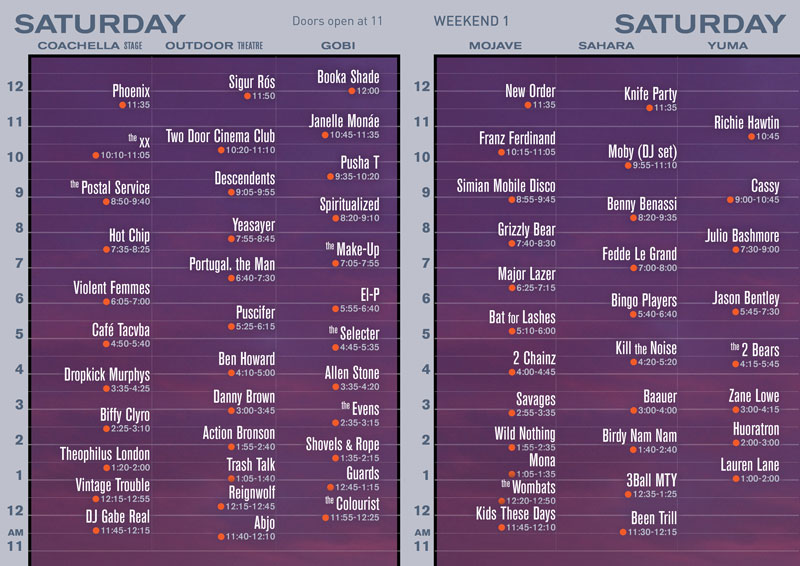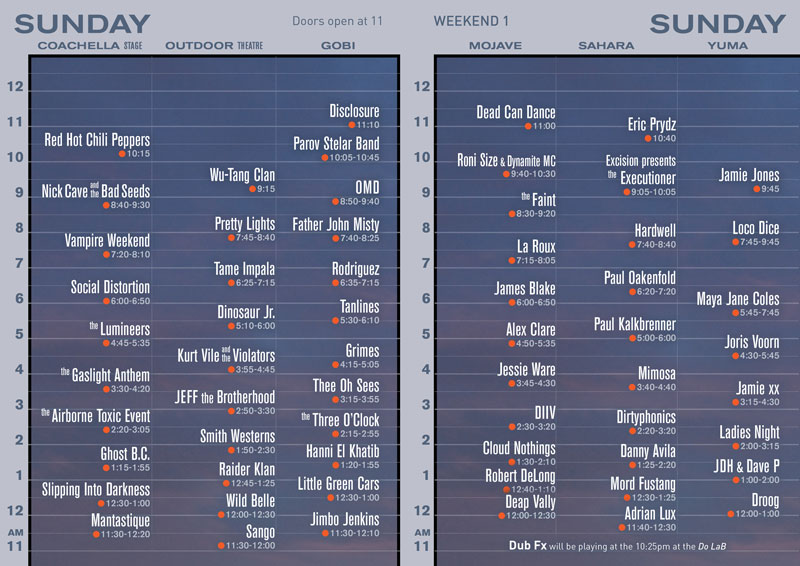 (via Pitchfork)
Electric Zoo Phase 1 Lineup—Main Stage West & Main Stage East Headliners Announced
Hard to believe that it's been five years since Electric Zoo busted onto the scene. Time flies when you're having fun, I suppose. And it looks like the folks at Made Event are making some whoopee this year too. In addition to the first round of acts on the bill, EZ also announced the addition of a second Main Stage (that's a total of two open-air stages, plus three state-of-the-art tents: The Hilltop, The Riverside and Made Event's fabled Sunday School Tent) to this years three-days of merriment at Randall's Island Park. Tick tock Labor Day Weekend, you can't come soon enough.
Also new this year, which will surely be a rub for some EDM culture loving youngins (and a blessing for others), is the newfangled "18 and older" policy. That's right, EZ made the call and are pulling the 18 and over trigger for this year's event. If you are south of 18 and already purchased a ticket you can get a refund.
Electric Zoo 2013 Main Stage West & East Headliners:
Above & Beyond
Alesso
Armin van Buuren
Avicii
Bassnectar
Benny Benassi
Bingo Players
Cazzette
Dada Life
David Guetta
Dimitri Vegas & Like Mike
Diplo
Excision
Flux Pavilion
Hardwell
Knife Party
Krewella
Laidback Luke
Madeon
Martin Solveig
Otto Knows
Rusko
Sander van Doorn
Sebastian Ingrosso
Showtek
Steve Aoki
Tiësto
Tommy Trash
W&W
Zedd
(via Magnetic Mag)
Watch James Blake's Video for "Overgrown"
Though our review of Overgrown proved that we're not so much in love with the new album by sullen UK troubadour James Blake as we are the work on some of his past 12″s and EPs, this video for that LP's title track nonetheless has us intrigued. The decidedly dark and cinematic piece finds the singer/songwriter/producer waking from his bed in a remote cabin to slowly and deliberately walk to the edge of a seaside cliff, amassing a group of hooded followers on his journey. We're not entirely sure what to make of it all, but it makes for an interesting companion to one of Overgrown's better tracks.
(via XLR8R)
House talents Eats Everything and Justin Martin "30% there" on a full-length collaborative album
Speaking to FACT TV at this year's Snowbombing festival, Bristolian house producer Eats Everything reveals that he's working on a full-length album with Dirtybird's Justin Martin.
"I've sacked [the idea of a solo album] off", explains Eats, "and now I'm making an album with Justin Martin. We're doing an album together this year, to come out early next year … We're 30% there, and we'll have a lot more time towards the end of the year. If we can get it right, then next year will be crazy." Eats Everything and Martin have collaborated in the past, on February's 'Feather Fight' single, so house fans will already know it's a partnership that works – though Eats does emphasise that it's not 100% that the album will see the light of day.
You can watch the full FACT TV interview here.
(via FACT Mag)
Bomba Ibiza to host Vagabundos
A new Ibiza club called Bomba will open its doors on the week of May 22nd.
Former Pacha musical directors Danny Whittle and Mark Netto have joined forces with Giuseppe Cipriani, of the renowned Cipriani hospitality group, to create the island's latest superclub. Whittle and Netto have already taken former Pacha residents Erick Morillo, Defected In The House and Luciano's Vagabundos crew with them. The latter trio will now hold residencies at Bomba, whose opening is set to coincide with the Ibiza IMS, with further residencies to be announced in the near future. Built on the Marina-front premises formerly occupied by Penelope and later Heaven, the venue will be fitted out with a custom-built Pioneer sound system, the first of its kind in the world.
(via Resident Advisor)
Comments
Comments