Starting off your career with immediate support from the likes of Tiga, Felix Da Housecat, and the other top-tier, heavy hitting electro heads of 2006 isn't exactly a bad way to get things underway. Three studio albums, a live DVD, and countless crowd rocking performances later, Shameboy are back in the studio prepping another LP for the world. With some big time remixes, ear-popping originals, and more on the horizon before that, it'll be interesting to see exactly where Shameboy find themselves this time next year. Something tells me, they'll be right where they want to be…
Full interview with 1/2 of Shameboy, track previews, and free mixtape after the jump.

Hey Luuk, how you doing man?
I'm super busy at the moment, but quite fine actually! Thanks for asking!
Going to start things off with a GDD™ tradition, what's your drink of choice? First round's on us next time we meet up.
I'm a sucker when it comes to Scottish single malts. I prefer almost everyone out of he Speyside region.
For our readers who aren't all that familiar, tell us a little bit about the history of Shameboy.
Well, we started it as a sideproject in 2006, but with our first release called "Rechoque" things hit off quite well immediately. Everything became more and more serious after that, so by 2007 this was our main gig basically with releasing our first album. From then on everything went crazy with loads of live shows in great venues and festivals in Europe. 6 years down the line, with 3 studio albums, 1 live album/DVD, several EP's and about 30 remixes released, we're standing stronger than ever. We still feel there's much more to come, which is the best feeling you can have with a band I would say…
That's great to hear bud. Your social media feeds are full of mouth-watering pictures of great studio equipment, in an age where so many are working with nothing but a laptop where'd this love of the analog pieces come from?
Just play around with some proper analogue gear yourself and then try to do the samething with a computer or software, it just doesn't give you that excitement and kick! For me personally, I think there's nothing to compete with that old analogue sound…
Have you just been hunkered down in the studio working on new material for a bit?
Of course, apart from my work as a record producer and doing quite some remixes, we try to spend as much time as possible in several studios to work on new originals since about 2 months now, with quite a good output I would dare to say. I'm quite happy with some of the stuff that we worked on.
Any cool projects you can tell us about?
Well actually there's some great stuff to reveal… We just did a remix for our longtime heroes Booka Shade which is going to be released on Dim Mak! The guys were so flipping over that remix that they actually asked the stems from us so they could play the remixed version in their liveset, which is a huge compliment obviously. Especially being such an admirer of their tracks and production skills! Because of that remix we got asked to remix another great track called "Betamax" from a band called Big Black Delta, which I'm really happy with, as are they I just heard.
Besides from that we decided to start this new thing, as we've done quite a lot of remixes, we thought it was a cool idea to start doing mixtapes consisting only of our remixes. Old ones, new ones, and even some unreleased ones. We just did Part One which you can download from our Facebook page.
That's super exciting about the Booka Shade stuff. Their usual output is juuuust a bit more mellow than your typical Shameboy tracks… how'd that one turn out?
Fair enough, it was a much more mellow track than we usually are used to, but on the other hand on our albums there are some more athmospheric tracks, so we're not total strangers to that… In the end I really loved working on that remix and I was able to focus so much more on sonic quality and athmosphere instead of trying to come up with the hardest drop in the history of dance music to make the floor go crazy, which is a totally different approach…
Well yeah, historically, as a group, Shameboy are pretty prolific remixers. Is that going to be it for a time though?
Yeah, I would say we take a short break from remixing as we want to focus on original material for the moment, there's a new EP ready and to be released soon and – drumrollllllllll – we decided to give away an unreleased track when we hit 15k fans on Facebook (editor's note: they're only 1,000 away kids, let's help 'em out)! But our main focus will be the new album the next couple of months.
Your guys live shows are notoriously high energy. Your Live at the Pyramid Marquee DVD conveys the energy in that tent about as well as it can. I imagine there's likely to be a tour following to support an album…
Thanks for the compliment, but it's true our live shows go off quite well! And of course when we release our next album we're going to be really excited to take that on the road… We're going to put together a new live show/production in which we're going to be playing some new tracks and a bit of a 'best of'-setlist. It's so much fun after you finished an album to come up with a great live show.
What's the difference for you between playing a live show and spinning a DJ set?
The live show is all about playing your own tracks in different versions and trying to be one with the audience. Creating that special vibe of a rock show, but with electronic music. When playing a DJ set, we play other people's tracks, our remixes and that's much more about making the people dance like crazy, whereas our live shows are more about making them jump like crazy
What's the live set-up like in terms of equipment and both your and Dominik's responsibilities back there?
We use 2 computers running SSD drives to avoid harddrive skipping, where 1 computer serves as "rhythmsection" and is playing the basic backing tracks like beats and stuff, the other computer is purely used for the occasional sample, FX triggering or softsynths. Besides that we obviously use a nice collection of vintage synths on stage to actually play a lot of melodies and bassline live without triggering, with our bare hands… Which obviously isn't always 100% right, but the kind of "danger" that things can go wrong makes it really exciting for us when we're playing live.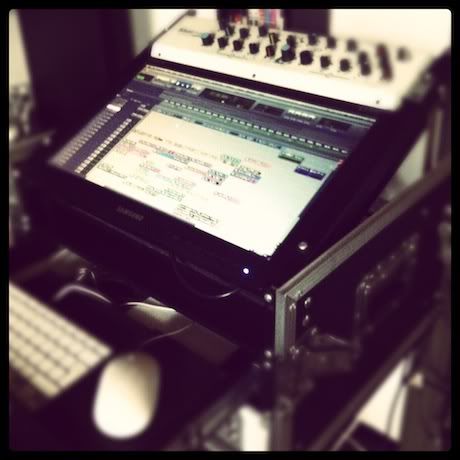 Well that's awesome Luuk. Can't wait to see the next revamped version of the Shameboy live attack. We hop the studio goes well because we can't wait to see you guys back out on the road. Last question, and it is some respects, the most important one… when you're not behind the decks and you're just out for fun, do you like to dance dirty?
Well umm, who doesn't enjoy a good party every now and then! But you won't see me crashing the dancefloor with the hottest moves around… I try to make music so other people can show off with them and not me.
Shameboy Facebook
@shameboy808
Comments
Comments