"b sure 2 drink plenty of water!"
I awoke to a text from Mom at 5PM Friday from my long summer's dirt nap and immediately proceeded downtown to LA Historic Park.  What transpired from that point to the end of the afterparty at 5AM Sunday morning was one for the books.  Just for you, we've all spent this week piecing together our collective experiences of HARD's signature top-notch bookings and performances, with our favorite moments and surprises, all illustrated with beautiful images from the top photographers in the dance music game.  We now proudly bring you the definitive GDD™ HARD Summer 2012 Review.  If you went to HARD, read this.  If you didn't go to HARD (really?), read this.  This was a weekend we'll never forget, all in the comfort of our own backyard.  Thanks again, Gary Richards.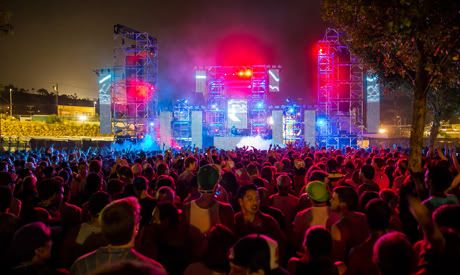 BONES: Riton + Fake Blood + Gesaffelstein
Arriving on Friday as the hot LA sun sunk behind the cityscape, the air over LA Historic Park quickly began to chill as crowds began to swarm the festival grounds. After downing a few "beverages," we ran over to the HARDer stage where Ed Banger's own Riton was heating up the night with piercing LFOs and pounding bass upon the masses. The crowd went into a roar when he teased in Gesaffelstein's haunting anthem 'Opr' – with the man himself sneaking up on Riton and giving him a hug on stage.
After Surkin's spazmatic high energy set, the mysterious Fake Blood took over duties and put on a display of what he does best, juggling CDJs and vinyl all into alarming performance. The onslaught continued with the much anticipated live display of Gesaffelstein, vigorously chain smoking while making surgeon-like cuts into his flawless mixing. The crowds erupted into cheers only to be followed by jaw dropping faces frozen in awe. The HARDer stage definitely left a dent in everyones chest.
TOKS: A-Trak 
After the excellent sets throughout the night on Friday, we finally settled down to witness the greatness that is A-Trak, in the comfort of his own Fool's Gold Clubhouse. With a DJ of his caliber, expectations are always high, but he tends to think differently with his tastemaker track selections, turntablism, and sixth sense to feel out the needs of the crowd to keep things fresh, unique, and exceeding those expectations. There was certainly a reason behind him being the only artist to play both days.
By playing classics and unreleased material spanning over several genres, A-Trak does it all and does it with style. Much like some other artists, one thing that stood out from the previous sets I had seen him play was that he spun some trap, such as RL Grime and Salva's remix of "Mercy," which was only natural since hip-hop has been a large influence on him. As always, A-Trak brought out the proper vibes which made the segue into Boys Noize that much more enjoyable.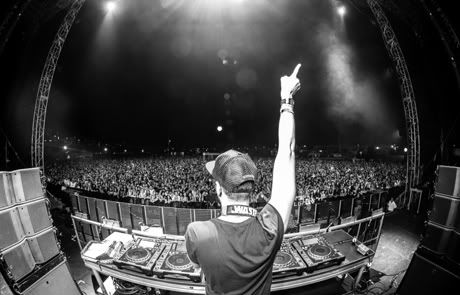 MATT: dirtyBird + Murphy Dawg review
It was a top priority of mine to get to the festival on Saturday to check out old school virtuoso Squarepusher. While I was disappointed that he nearly cleared the field with his frenetically warped and glitchy bass assault, I still commend Gary Richards for the booking. If one kid out there who would have never heard of Squarepusher otherwise was converted into a fan, I believe GR feels he did his job as the curator of a cutting-edge festival.
And speaking of cutting edge, 2012 wunderkind Kill Frenzy poised the Discotheque for full on chaos as he started of the dirtyBird extravaganza taking place in the Red Bull Music Academy tent.
Heading in for the last half of his set we made it in time for the official unofficial anthem of 2012, "Booty Clap." The highlight though, was him speeding up Solomun's "Love Recycled" until LA-classic "Regulate" by Warren G and the late Nate Dogg was echoing against the skyline of a setting sun and Downtown Los Angeles. After a quick embrace with Justin Martin, the real booty bass was unleashed as Justin opened his set with a playful but by no means fucking around bootleg of Marc Houle's "Yonkers" and DJ Deeon's "Let Me Bang." It was a 10-minute or so stretch of music that wouldn't be topped all weekend, at least in my eyes, but anyone who knows me knows I'm a sucker for some Nate Dogg.
By the time dirtyBird chief Claude VonStroke took to the decks the tent was ready to burst at the seams with energy. Knowing that outside, at the other stages, the likes of Datsik, NERO, and Dillon Francis were currently pumping high energy wall-of-sound noise into the atmosphere, the crowd seemingly decided to collectively show that proper booty bouncing house music could get your rump moving too.
It's no slight against any other genre of music, but by the time Mr. VonStroke and James Murphy had laid waste to the dance floor for a few hours, I had zero intention of seeing anything else to end the night. James Murphy had laid down a peerless disco set with old school jams and new school flavor, notably including Poolside's revamp of Harvest Moon. Get it below.
JONAH: Skrillex + Afterparty
Once set times for Saturday were initially released, it was clear that the entire occupancy of the festival was going to be polarized between Skrillex at the HARD stage and James Murphy at the Disqotheque Stage. Now I saw James do his thang last summer with Pat Mahoney and it was incredible, but with so much buzz surrounding Skrillex this past year and an insider tip on his unbelievable stage production, I needed to witness his set full on.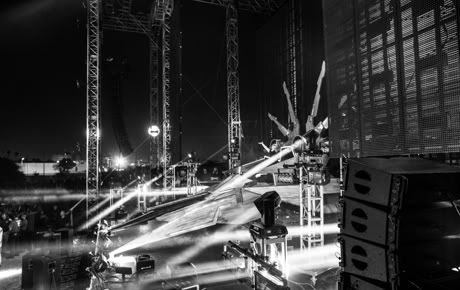 With a perfect view from FOH, I was amazed as Skrillex boarded his Mothership — a spectacle of a DJ booth that hydraulically lifted him 15 feet above the stage at a point during his set. Of course, Sonny played the hits like "My Name Is Skrillex" and "Bangarang," but I was extremely impressed at the barrage of other genres he peppered into his set. I heard everything from Damian Marley's "Welcome to Jamrock" to Bauuer's Trap smash "Harlem Shake" to the new Techno beast of a collaboration with Boys Noize titled "Dog Blood." After the set was finished and house lights blinded the crowd, two things became very clear to me: Skrillex is technically amazing at DJing and he has one of the best production teams in the world at his back.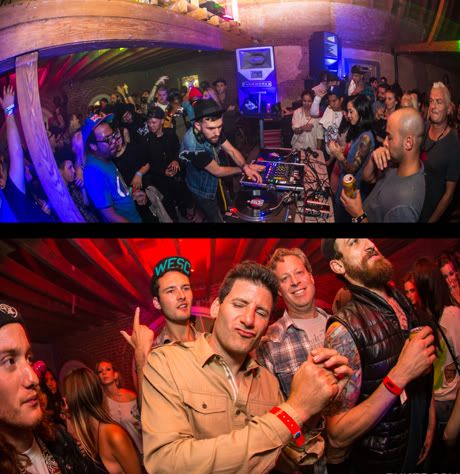 The night then continued on to an afterparty in an abandoned church in Downtown Los Angeles where booze ran freely and VIPs of all sorts made their way up to the top floor where a mobile Funktion One system had been set up. At 2:45AM, rumors began to float around that A-Trak would be coming by to hop on the decks for a bit. 15 minutes later, the fidora-clad man was surely to be found behind the DJ table where he proceeded to play 90s Hip Hop and some other Old School Jamz for over an hour. It was getting pretty damn sweaty at this point, so I stepped outside to bum a smoke. As I climbed back up the stairs to the top floor of the once-holy sanctuary, I heard deep, dark Techno emerging from the system, and it took me a few songs dancing in the back before I realized that Skrillex had taken over the controls. He then laid down a flawless Techno/Tech House set until about 5AM and left the decks with Classixx's remix of Lisztomania ringing out loud.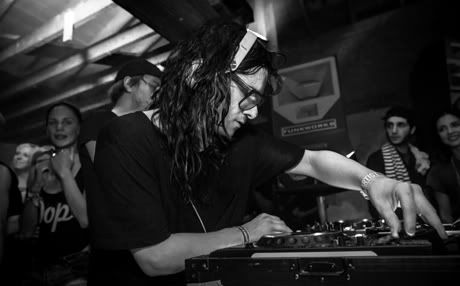 Again, I had come to another realization: Skrillex knows what he's doing. He's got great taste, appreciates many forms of dance music, and he's found his niche in the scene. It's now obvious to me why every artist from Kaskade to Boys Noize wants to work with him. Haters hate all you want, GDD is a big fan of Skrillex.
*ALL PHOTOS BY RUKES.COM
Comments
Comments