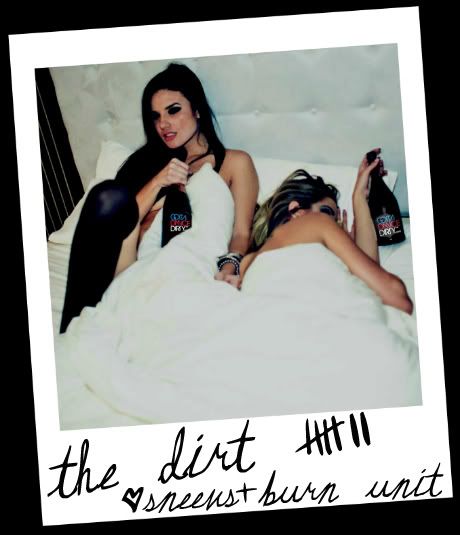 It's Dirt #52 and we've spent the last 45 hours painstakingly selecting the following 45 tracks for you, dear reader, because we know nothing else.  I truly don't understand how Burn Unit finds these ultra rare gems but they're all there, zipped up in all their glory.  I, on the other hand, have successfully burnt the Spotify application into both my computer screen and retina from staring at it for so long.
GET IT INTO YOU.
• THE DIRT #52: Burn Unit's .zip
 GDD™ SPOTHEADS.003: The Dirt #52 (35 track
Spotify playlist)
Read more for full track previews and commentary…
• Dems – House (Jean Nipon Remix)
Dems is a new band I think we'll be hearing a lot from in 2012. Definitely one of the great finds of the year by our good friends over at Bad Life Records. The remix package includes an offering from Evil Nine, TWR72, and this one, my personal fav, from Jean Nipon, and they're giving it away for free right here on GDD™!
• MikIX The Cat – What You Said
Can you go wrong sampling Aaliyah? I don't think so, and with that MikIX turns out another dark and twisted gem to add to his extensive and impressive catalog. This song oozes sex, and not the kind that God is okay with. If you're not up on this guy, get on up.
• autoKratz – Heart Attack Man (Night Symmetry Remix) GDD™ Exclusive World Premiere
If you've ever seen the movie SLC Punk and remember the guy who has 500 tabs of LSD soak into his leg then you'll understand that this song is basically a well-orchestrated amalgam of every noise he was hearing in his head once he went completely batshit off the stuff. Basically it's an awesome tune. 303 to the face.
• KC & The Sunshine Band – Get Down Tonight (Bareback DJs Bootleg)
What kind of sick, sadistic, morally-depraved fucks turn such a happy and lively disco jam into a horrifying, future-techno monster? Oh, the crazed Aussie badmen, the Bareback DJs. Seriously fellas, get some help already.
• Jamie Jones – Should Have Gone Home
We all know this feeling, or at least should. If you've never passed out face first on the bar, only to have the bartender wake you up with a shot of tequila in your face, you're not partying hard enough… or you've just never been to Berghain/Panorama bar.
• James Blake – Minute to Your Love (Blond:ish Truth or Date Edit)
James Blake + two hot blonde chicks? Sweet. You should check out these girl's mixes on SoundCloud. I'm pretty sure based off of their musical tastes alone that I'm in love… with both of them… the fact that they're smokin' is just a bonus at this point. Hit me up ladies 😉
• Canyons – See Blind Through (DJ Harvey Remix)
This is just a classic style house jam from a man who has been in the game just about as long as anyone. So many nods to the past in this one, and it literally just came out fo' free! Get your grimy little paws on this whether you're 45 or 15.
• Rick James – Mary Jane (Perfect Driver Bootleg)
This song really doesn't fit that well amongst the others on this list, but damn it's good. Dear Perfect Driver, where was this during the summer so I could've jammed out by the pool to some modernized disco boogie? If you're in the colder climates, put this on to heat things up, if you're in California with me, carry on slappin' GDD™ stickers on butts by the pool (sorry we're not sorry).
• Giorgio Moroder – The Chase
An all-time classic. 1978. NINETEEN. SEVENTY. EIGHT. Fucking ridiculous. Even the 13-minute maxi-version shouldn't be long enough to satisfy you. iTunes > Controls > Repeat > One.
• DJ Pierre – I Am Acid
The real O.G. tells it like it is. He is Acid. When Pierre and the Chicagoan (is that right?) duo Spanky got together with a Roland TB-303 a little over 25 years ago and made 'In Your Mind' (later 'Acid Trax') Acid House was born. All this time later and the guy still knows how to work that synthesizer like no other.
 GDD™ SPOTHEADS.003: The Dirt #52 (35 track 
Spotify playlist)
Spotheads is our latest 
Spotify feature.  Every time you see a 
, that means the track or playlist will open in Spotify when clicked.  This week, I grabbed every track I came upon– every track from a GDD post or mix we've put up, Beatport's top charts, even Dirt #51— threw it in a playlist and started cutting it back.  The result is 35 tracks of bigger, bangin'er grooves than you'll usually see from me, in classic Dirt fashion.  Look for the usual deeper sneevs' stuff in SPOTHEADS.004 and the rest in an upcoming SPOTHEADS Disco Dump.  Get into it!
 GDD™ SPOTHEADS.003: The Dirt #52
 Noob – Spell

 Sbtrkt – Wildfire (feat. Little Dragon)

 Eats Everything – Hevvie

 Jean Nipon – Dolphins – Original Mix

 Diplo – GO – Peace Treaty Remix

 Mikix The Cat – Girls

 NT89 – Pumpin' – Beataucue Remix

 Fatboy Slim – Ya Mama (Push The Tempo) – Moguai Remix

 Manufactured Superstars and Trent Cantrelle – Drummer Drums

 The BeatThiefs – Sao Paulo (Lucas Reyes Remix) – Lucas Reyes Remix

 Basto – Again and Again – Extended Mix

 Digitalism – Circles

 Jean Nipon – Rosso – Original Mix

 ZZT – Work – Original Mix

 Jan Driver – Black Harbour

 DJ Pierre – I Am Acid – Original Mix

 Eats Everything – Lakota

 Trent Cantrelle – Fallin' Off The Floor

 Detboi – Party's Zipped Up

 Blatta & Inesha – Senegal

 Big Gigantic – Lucid Dreams

 Jan Driver – Empathy

 Giorgio Moroder – Chase
All our best,
burn unit & sneevs
Comments
Comments