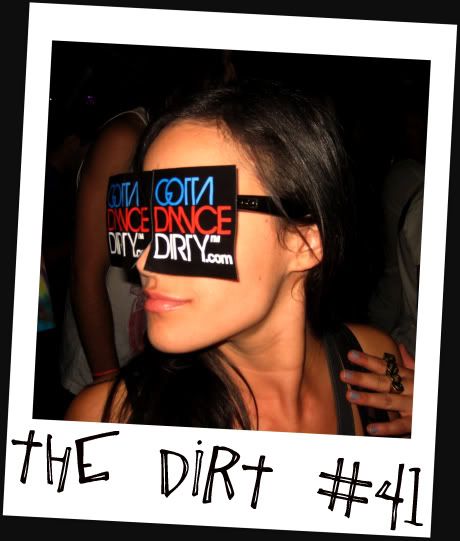 This week the 41st edition of The Dirt is to be dished by Sweet FA and Burn Unit, your gracious Gotta Dance Dirty radio hosts. Stay tuned for a veritable smörgåsbord of what's good and great, and keep an ear out for GDD Radio airing EVERY day on Electric Sound Stage Radio with new episodes airing Friday nights!
• Bag Raiders – Not Over (Eli Escobar Remix)
Aussie label Modular just gave away this track as a freebie, it's been doing the rounds a fair bit over the last month or so – Eli Escobar doing a number on the Bag Raiders original.
• Tiger & Woods – Time (Original Mix)
One of the many standout tracks from "Through The Green", Tiger & Woods' monstrous debut album. If you don't own a copy then get with the program, it should be on the shelves of every lover of disco-house, and currently sits among the top 3 records I've bought this year. Huge release, and one I highly recommend.
• DJ Sneak – Can't Wait Another (Original Mix)
DJ Sneak released this great piece of filter-house via Riva Starr's Snatch! label last week. Summery and highly-danceable, just the way we like it.
• Lovebirds – Want You In My Soul ft. Stee Downes (Original Mix)
Bouncey mellow groover from Lovebirds. You'll find yourself vibing to this track long after its ended.
• Florence & The Machine – You've Got The Love (Tom Middleton Vocal Mix)
Big fan of this tune as it's like a remix cover of a Trax classic. Tom Middleton (one half of the legendary Global Communication duo) pays homage to Frankie Knuckles in true italo-disco style. Don't peak too early though, this one's still a slow-burner.
• Tiga – Gentle Giant (Martyn's Heaven Remix)
This week Turbo dropped their Century IV compilation brimming with tunes both old and new. Here's an older track on the release, and it's still such a huge remix. If you're a Martyn fan, you'll be stoked to hear that the Dutchman's set to release his sophomore album entitled "Ghost People" via FlyLo's Brainfeeder imprint later this summer!
• Alpines – Cocoon (Nocturnal Sunshine Remix)
There are few people who have smashed it harder than London's Maya Jane Coles this year. She made the cover of Mixmag, played some of the world's biggest clubs and festivals, and released on some of the most highly esteemed techno and house labels. Somehow she's still found time to continue with her She Is Danger and Nocturnal Sunshine side-projects, and just put out a dubstep remix of Alpines – 'Cocoon' which I'm really digging at the moment.
• Dark Sky – Neon (Original Mix)
Dark Sky have just released a really strong EP on Modeselektor's 50 Weapons label. My favorite track's b-side 'Neon' which bangs pretty hard and is as fitting way as any to draw The Dirt #41 to a close.
Sweet FA
• The Weeknd – Rolling Stone (Grandtheft Extended Dub)

[download in 320 off SoundCloud]
I really can't get enough of this remix. Grandtheft takes the already stellar original and flips it on its head and spins it around until its breakdancing. Juxtaposing the two really gives you an idea of how much talent and vision went into this. Check out Grandtheft on Facebook here!
• Maurice Joshua – This Is Acid (Boys Noize Re-work)
acid is the latest sound / can you feel it all around as you dance / acid has a certain groove that makes your body wanna move / when you hear it / when the acid hits your soul / it makes you lose control, of your body / acid sounds so unique, you just have to move your feet / when you hear it
• Penguin Prison – Fair Warning (Goldroom Dub)

[download in 320 off SoundCloud]
I really want to post the vocal version of this, because it's absolutely infectious and gets stuck in your head easier than a Katy Perry chorus, but I think we'll have to settle with this for now. You can download the Dub, but make sure to click that little cloud and go have a listen to the original as well! In summary: what a fucking jam!
• Lee Foss – U Got Me
When Benoit & Sergio threw this into their mesmerizing XLR8R podcast back in January this was the standout track for me. And now I know why… I recently discovered there's a subtle sample from one of the single best tunes of all time in this. That's right, I'm talking about Keith Sweat's 'Twisted.' Genius.
• Motor City Drum Ensemble – Raw Cuts #2
James Murphy and Pat Mahoney of Special Disco Version/LCD Soundsystem dropped this last Saturday at HARD. Made me wish my skinny jeans were bellbottoms and my Chuck Taylor's were rollerblades. Groove.
• Homework – Kadenza (Acid Edit)
You can hear this one on our Gotta Dance Dirty radio show broadcast this week on Electric Sound Stage. Pool party and late night vibes all rolled up into one funky little package. Signed, sealed, and delivered.
Burn Unit
Comments
Comments