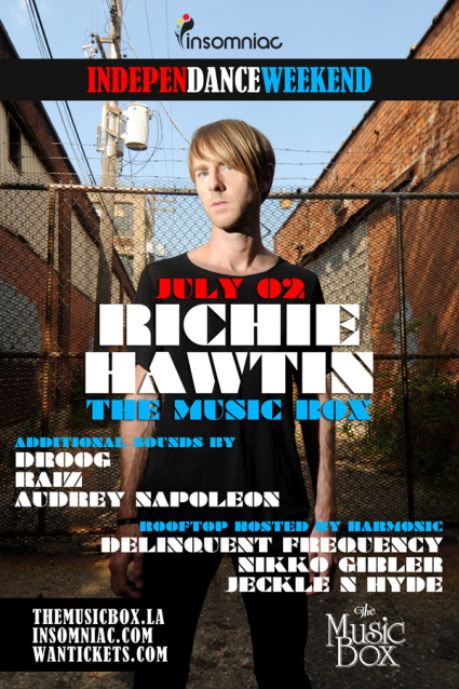 A pioneer and a true innovator, techno legend/demigod Richie Hawtin has been hypnotizing crowds since before Detroit was cool. His sets regularly inspire people to abandon all music they previously liked because "it just doesn't sound as good anymore." He'll haunt, terrorize, mesmerize, and stupify your senses with an onslaught of minimal techno that will put you in a dream state but compel your body to keep on moving whether you like it or not. This IndepenDANCE Day weekend, on Saturday at The Music Box in Hollywood don't miss your chance to see a true icon of dance music.
His Plastikman alter-ego/evil twin put on the most impressive performance of the Electric Daisy Carnival in my eyes, with ribcage rattling techno bass and a visual display to rival anything out there. Don't worry though, his DJ sets are equally as impressive.
On top of Richie you also get LA's Droog, GDD's favorite maiden of techno Audrey Napoleon, and former VERSUS guest Raiz!
∆ Get yourself some tickets HERE
∆ Check the Facebook event page
∆ The Music Box
∆ 6126 Hollywood Blvd.
Oh, and if you got a spare 70 minutes or so…

Comments
Comments