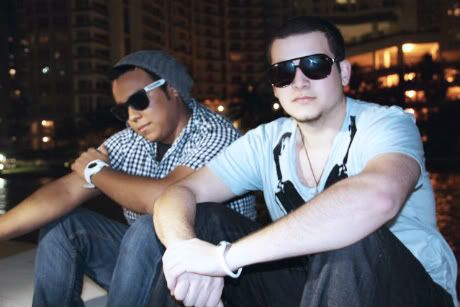 With Electric Daisy Carnival Las Vegas looming and summer starting to kick into gear one can't help but yearn for those magical, rave-synth-induced, hands-in-the-air moments that heavy hitters the likes of Laidback Luke, SHM, and Afrojack always provide. While you're more likely to catch me giggin' out with my eyes closed over at Gaiser instead of Guetta, I must admit I'm still a sucker for some massive big room tunes, and right now Miami-based production duo GTA are doing it about as well as any of the big boys.
Having impressed Luke time and again with their stellar productions, this time around he thought he'd lend a hand on the forthcoming 'U&I' EP (also featuring the GTA track 'Next To Us') and the release will be accompanied by a mega remix from Luke when it comes out on June 27th on Mixmash Records. Have a listen to the originals below and imagine yourself in a stadium with 50,000 people, some pyrotechnics… you get the idea. Check out the GTA Summer Promo Mix after the jump as well!
U & I ft. Zashanell (Original Mix Sample) by GTA_
Next To Us (Original Mix Sample) by GTA_
This mix is packed to the brim with big room monsters ready to get you jumping. You can snag it for download here once the SoundCloud download limit is reached and the tracklisting is available below as well.
GTA 2011 Summer Promo Mix by GTA_
1. GTA – Next To Us (Original Mix)
2. Wippenberg – U R (Original Mix)
3. Tim Mason – The Moment of Sweet Dreams (Sven Kirchhof Mashup)
4. Kid Massive, Peyton – A Little Louder (Damian Williams Remix)
5. Richard Vission – 2 to the 3 (Kriss-One Remix)
6. Kaskade – All You (Angger Dimas Remix)
7. GTA ft. Zashanell – U & I (Original Mix)
8. Starkillers, Alex Kenji, & Nadia Ali – Pressure (Alessa Remix)
9. Quintin – Blow It! (Original Mix)
10. GTA – Obey (Original Mix)
11. Laidback Luke, Steve Aoki, & Lil Jon – Turbulence (Sidney Samson Remix)
12. Tiesto & Marcel Woods – Don't Ditch (Original Mix)
13. Phoenix – Fences (GTA Bootleg)
BU.
Comments
Comments