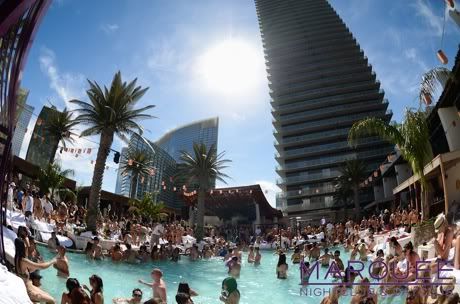 photo cred: Al Powers
I am so glad that I am no longer in college because the commencement of my summer is now completely dependent on the weather. With that said, it is a lovely 87ºF today in sunny, sweaty Los Angeles, which means it is time to put away the pea coats and bring on the boardies + bikinis. The month of April is now over, and in Las Vegas, pools have opened and day parties are in full swing. If you recall earlier this year, a few of us were lucky enough to head out to the brand new Marquee nightclub in the Cosmopolitan Hotel to do a review of the production and main resident Roger Sanchez. Well, after seeing what they had to offer in January, both aesthetically and musically, the only thing on our minds was splashing around in that pool to some big tunes this summer.
Now, with Memorial Day creeping around the corner with a PBR tall boy in one hand and an American flag bikini in the other, Marquee will be presenting one of the finest weekend nightclub and dayclub lineups on or off the strip. Artists on hand will include Fatboy Slim, Chuckie, Roger Sanchez, Above & Beyond, Armin van Buuren, ATB, Cedric Gervais, Laidback Luke, Robbie Rivera, and more.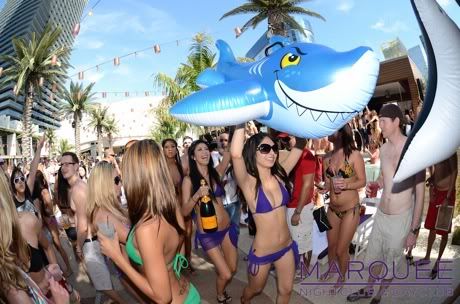 GDD™ will be giving away 2 passes for all Marquee Dayclub and Nightclub 'United' events for THE ENTIRE WEEKEND (4 days!). After testing the waters on our Facebook earlier today, it's clear that many of you will be making the sinful trip out to the desert for the weekend, but for others, this could just be your reason to go. See below for entry details…
To enter to win…
• You must 'Like' the Gotta Dance Dirty and Marquee Facebook pages
• Tag both GDD and Marquee in your status mentioning the contest/how badly you want to win/how awesome Vegas is/how awesome GDD is/etc.
• For bonus points, you may tag GDD and include the craziest picture you have of you and/or your friends in Vegas from a past trip. If you've never been to Vegas, don't worry it's not a requirement. We just enjoy seeing our readers be as wild as us
Winner will be announced one week from today, so grab this new Vegas mix on URB from Fatboy Slim to get you ready!
________
♥

jonahberry
Comments
Comments