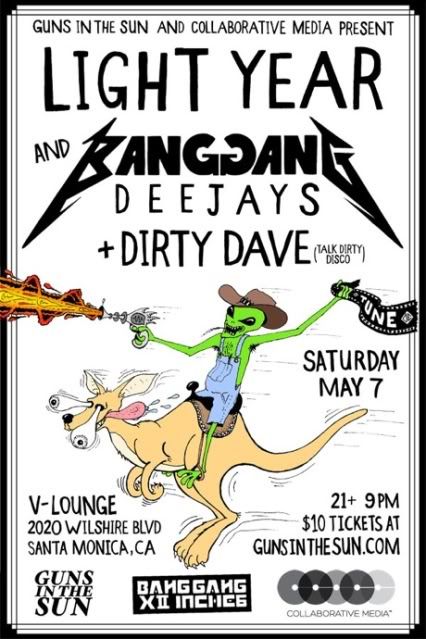 For many Angelenos, some of our first experiences with electronic music were at gatherings like the first few HARD Festivals, Insomniac massives, and the early days of the Sahara Tent at Coachella, back around 2006, 2007, 2008 or so. These lineups were usually christened with great veteran acts such as Soulwax, 2manyDJs, Mr. Oizo, Boys Noize, Tiga, etc. We all remember the first time of hearing those dirty, wild, grinding techno grooves being pumped out over these massive soundsystems and all instantly understanding why these acts are at the top of the bill. Naturally, dance music and the festival lineups have since expanded and grown in all sorts of different directions, yet it seems that few new up and comers have been able to capture that classic analog techno sound that many of the flagbearers mentioned above have conquered. But then again, many amazing things seem to be happening down in Australia that have managed to stay off the radar…
LIGHT YEAR is a duo from Sydney made up of two 25 year olds Jordan Feller and Mikey Melas. Our friends at Guns in the Sun and Collaborative Media have brought the Aussie techno duo LIGHT YEAR over to the USA, and are debuting them to California on Saturday night at the V Lounge in Santa Monica, where they recently brought Bag Raiders last month. Light Year's tracks "Sex Education" has been a staple in the 2manyDJs set over the past year, and their sound has been championed by the likes of Mr. Oizo, Strip Steve, and many others… including Tiga, who has been playing out their remixes on BBC Radio over the past months. Watch the AWESOME video below to see many of the top tastemakers in dance music hyping these two Aussie youngbloods.
The Light Year boys are joined on stage by the absolute legends who discovered them…..their label bosses Bang Gang Deejays, who will be dropping techno party bombs all night like they've been doing it for years…..because they have. If you're not familiar with Bang Gang 12 inches…. they are the record label who discovered and developed the likes of Bag Raiders, Flight Facilities, Cassian, and (probably) birth control. Opening the night is LA's resident legend, disco diety, and wax messiah, Dirty Dave. Last but not least, Mikey from Light Year turns 26 on Saturday night, so you definitely know it's going to get loose at the V Lounge. Long story short, I wouldn't miss Saturday night in Santa Monica. Scope the Facebook here, and buy the super cheap $8 party ticket here.
See you all on Saturday! Also, if you haven't already, pick up Light Year's promo mix that Trev posted earlier this week HERE.
_______
♥

jonahberry
Comments
Comments