This year during Ultra/Miami Music Week, we had so much fun in all of our experiences each day that it took us this long to gather our thoughts and reviews for what turned out to be one roller coaster of a trip. But needless to say, it was heaven on earth going back and forth from Downtown Miami to South Beach, seeing some of the best and most exclusive lineups that we'll see all year. We'll get down to brass tacks with what we did and the best performances we saw, our personal experiences, along with a bunch of nutty photos, videos, and finally some huge new tunes and live mixes from UMF for you kids to salivate over.
TUESDAY: GDD presents Miami Horror @ Bardot, Air London @ Electric Pickle
Bardot — Troy Kurtz & Pirate Stereo, Miami Horror
Air London — Matt Tolfrey & Maher Daniel B2B set, Kate Simko
WEDNESDAY: Beatport/Mixmag Beach Party, IVORY TOWER @ 1111 Lincoln, Ed Banger @ Bardot, (the walk from Bardot to Electric Pickle), Sound Pellegrino Showcase @ Electric Pickle
Beatport — Marco Carola, Riva Starr + BENCH hospitality
Ivory Tower — Brenmar, TEED, Beni
Bardot — Mehdi, Busy P
Sound Pelligrino — French Fries, Harvard Bass & Bart B More, Brodinski
THURSDAY: Beatport Beach Party, HARD Miami
Beatport — Dada Life, John Dahlback, Mark Knight, Fedde Le Grand
HARD — Benga, Mehdi, Diplo, Fake Blood, Tiga
FRIDAY: Ultra Music Festival (Day 1), No Sugar Added Fest
UMF — Joachim Garraud, Pendulum, Trentemøller, Martin Solveig, Loco Dice, Porter Robinson
NSA — LA Riots, Congorock, Felix Cartal, Dada Life
SATURDAY: Ultra Music Festival (Day 2), SHM's Masquerade Motel, Trouble & Bass x Overthrow: BLACK MAGICK
UMF – Boys Noize, Underworld, Deadmau5
Black Magick — Zombies For Money, Troy + Tamara, AC Slater x Drop The Lime, Bart B More, Deathface, Brenmar
SUNDAY: Ultra Music Festival (Day 3), Hard 2 Leave @ GOLD RUSH Strip Club
UMF — Chemical Brothers, MSTRKRFT, Dada Life, 12th Planet, ATB
HARD 2 LEAVE — Craze, BONES + Troy, 12th Planet x Nero, Tamara Sky, Caligula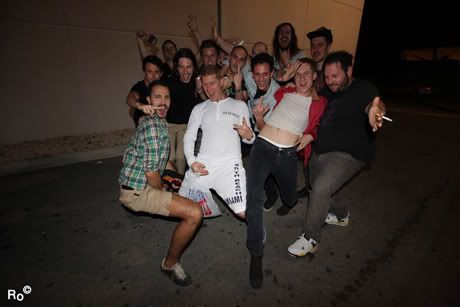 I HAD THE BEST TIME AT….Find out more insights on MMW + Downloadable sets from Ultra after the jump

JONAH: I really can't stress enough each year how truly amazing this week in Miami is. I talk to friends months in advance about going every year, and it seems like only the all-star crews end up pulling the trigger. With that said, I can profoundly state that this has been my favorite year in Miami, regardless of the WMC vs. MMW bullspit, and for those that were on the fence about going this year, start saving up your pennies for next March. Believe me you will not regret it. ANYWAY, I had so many favorite times over the course of the 7 day bender we called 'work,' so I'll have to narrow it down to a few here.
Of course I have to give mention to the commencement of the week, an absolutely fantastic B2B set by air london's Matt Tolfrey and Maher Daniel on Tuesday night at the sweaty, smoke-filled upper room of the Electric Pickle. By the end of the night, I couldn't tell whether my eyes were watering from the pure joy of hearing fantastic Tech-House for hours, or if it was the smoke from the seemingly neverending 7-inch Cuban cigar the man dancing next to me was smoking. Either way, it was a great start to an even greater week.
The next noteworthy event would have to be Thursday at the Beatport Beach Party at the Gansevoort. With a lineup featuring Dada Life, John Dahlback, Mark Knight, and Fedde Le Grand, you can imagine the fun to be had in the sand. We walked in just as the Swedish party boys started their set, and quickly linked up with our Avalon and Voyeur SD homies. From then on, it was good, solid House music for the rest of the day (and a bit of the night). The musical peak of this day, for me, would have to be Mark Knight dropping 'Downpipe' just before the sun finally went down. I grabbed another beer from Olle + Stefan and cruised out to the center/front of the stage where I would stake claim for the rest of the night.
The third and final highlight of my week in Miami is an illumination of exactly what I believe it is all about… stumbling from the festival to events, treks from Downtown to South Beach (and back again), and meeting musically passionate people from all over the world all in Miami for the same reason. It was Friday night, and I will let it be known that I had slept a total of about 10 hours since getting in on Tuesday. With my sleep deprivation being completely eclipsed by excitement for the first day of Ultra, I walked from Troy's apartment along with Matt and Bones and quickly reminisced of the other times we'd been on heaters in downtown Miami. Upon entering, we saw our boy Porter doing his thang in the Heineken Dome, watched an unbelievable set from Loco Dice in the giant Carl Cox & Friends tent, witnessed the madness of Joachim Garraud in the Root Society Dome, and took it down a little bit as Bones and I perched ourselves in the Red Bull VIP area to see the spectacle that is Trentemoller live while Matt roamed the masses. From here, we kept the party train moving, cruising out to South Beach for the No Sugar Added party at Nikki Beach. Our friends from Undocumented Management had the upstairs room on lock, and we wandered in as LA Riots, Dada Life, Congorock, and Felix Cartal finished up the night/morning. With Felix's 'The Joker' ringing through my ears, Matt, Troy, and I took a nice 5AM stroll, eventually ending up in our friends' hotel room. After great conversation was had, the gang headed back downtown to sip on some brews and watch the sun come up. Miami, I'll see you next year.
Jonah's Top 3 sets: Mark Knight @ Beatport, Tiga @ HARD, Chemical Brothers @ UMF
BONES: It seems like the entire week was one long festival with a lot of walking ground to cover (I sprained my ankle the first night durrrr) but on Wednesday night I couldn't have been happier to inflict more pain walking a few blocks from Bardot to Electric Pickle with my GDD fam, alongside the likes of D.I.M, Brodinski, Djedjotronic, Busy P, Mehdi, Riton, A-trak and Armand Van Helden. What was even more amazing was seeing the door girl @ Electric Pickle turn down all these dudes saying the venue was "at capacity." All I could do was grin as I watched Brodinski wait patiently to get us all in to the Sound Pellegrino showcase (that he was even playing at), Busy P busy on his phone and Duck Sauce leaning up against the outside of the club – all standing in line to get into a party. Luckily, their Paris' Social Club photographer (the CameROscope) caught some of perhaps the best pictures of the week in documenting this silly instance of what I think this whole week in Miami is all about.
Bones' Top 3 sets: Fedde Le Grand @ Beatport, AC Slater x Drop The Lime @ Black Magick, 12th Planet x Nero @ Hard2Leave
MATT BLACK: After arriving in Miami on Tuesday afternoon, popping bottles of Don Julio in the sand with Lil' Jon and the good people from BENCH Clothing on Wednesday, partying in a parking structure, and going HARD on Thursday straight through Friday night till the morning hours of Saturday, needless to say we needed a little nap and got a late start on the festival Saturday. Oh, and by we I mean me. Refusing to miss Boys Noize and the single biggest reason I came to Miami, Underworld on Saturday night at Ultra, I ended up leaving the GDD headquarters downtown and pulling a solo mission at the festival that day. Once inside it was a full sprint to the Live Stage, where Boys Noize had already been crushing it for close to an hour. Upon hearing him doing his patented 'Yeah' mixed with 'Swoon' edit I was in 5th gear and ready to get weird. The track he closed with (of which numerous fan uploaded videos have been taken down from YouTube already) is an absolute heater and something I'm sure we'll be hearing a lot of in the future. Once the Noize was complete, it was back to the Main to see living legends, Underworld. With a proper length set Karl guided the crowd through their smashing live rendition of 'Rez/Cowgirl' straight into recent party starters 'Downpipe' and 'Always Loved A Film.' For 90 minutes or so the crowd was in full hands-in-the-air dancing mode as Underworld put on a euphoric and mesmerizing set complete with the classics you'd expect and just enough of the new material as well. After meeting some new friends during Underworld it was time to play party captain and ensure that no man was left behind and escort those less well-informed to the only afterparty one needed to know about. With the mau5 still pumpin' and tens of thousands of people pouring out of the festival the nearby steps of the American Airlines Arena served as a rendezvous point for the weary but still willing to party. I pulled up the roster of talent playing at The Overthrow Castle that night on my iPhone and showed it to anyone whose eyes were properly functioning and rallied a crew of almost thirty party people to walk almost a mile to the Castle (which I told everyone had a drawbridge, and might have lied about a moat to a few people). With an epic party crew of new friends in tow, we rolled up to the real party and I got my Pabst Blue Ribbon on till the wee hours of the morning to the sounds of the T&B crew, Bart B More, and a memorable Tamara Sky/Troy Kurtz tag-team set in the sweatbox side room. That party at The Castle was hands down the party of the week… until the next night…
Matt's Top 3 sets: Chemical Brothers @ UMF, Chemical Brothers @ UMF, Chemical Brothers @ UMF
TROY KURTZ: Save the best for last. That's what everyone who attended last year's 'Hard2Leave' party had in mind during the weeklong marathon of parties. Overthrow brilliantly curated a bass-heavy industry party open to the public… at a full-nude strip club. As the un-official closing party, everyone from David Guetta to Flo-Rida to Skrillex was in attendance. After Trevor and I wrapped up our moombahton set, San Fran dirtybird Claude Von Stroke flew up to the booth to give us props, which had to be one of the top honors of my career so far. Mikey from Classixx was seen celebrating his birthday at the bar while the entire Trouble & Bass gang galavanted around, all clad in black. UK revelers Skream, Toddla T, and Redlight were spotted mimicking the weather overseas aka 'making it rain'. Other talent in the DJ booth included Hollywood Holt, Caligula, Spinstyles, Tamara Sky, Craze, then Ultra headliners 12th Planet and Nero decided to play some tunes, which resulted in stripper's body parts jiggling in a way that I never knew possible. During my 2nd or 3rd lapdance, I'm pretty sure I thought it was all a dream. I'm already saving my singles for next year.
Troy's Top 3 sets: French Fries @ Sound Pellegrino, Tiga @ HARD, Brenmar @ Hard2Leave
ULTRA TUNAGE:
• Bingo Players – Lame Brained (Original Mix)
• Martin Solveig – Hello (Banjamin Bates Bootleg)
• Far East Movement – Fly Like A G6 (Jordy Lishious Bootleg) √++
• Will Bailey – Freeze (Original Mix) √+
• French Fries & Chaos In The CBD – With You
• Brenmar – Boy U Got Me
GDD™ INTERVIEW w/ TOTALLY ENORMOUS EXTINCT DINOSAURS!

• LIVE SET DOWNLOADS from ULTRA MUSIC FEST!
Fedde Le Grand – Live @ Ultra Music Festival 3.25.2011
Martin Solveig – Live @ Ultra Music Festival 3.25.2011
Benny Benassi – Live @ Ultra Music Festival 3.25.2011
Afrojack – Live @ Ultra Music Festival 3.26.2011
Deadmau5 – Live @ Ultra Music Festival 3.26.2011
Moby – Live @ Ultra Music Festival 3.26.2011
Laidback Luke – Live @ Ultra Music Festival 3.27.2011
Comments
Comments