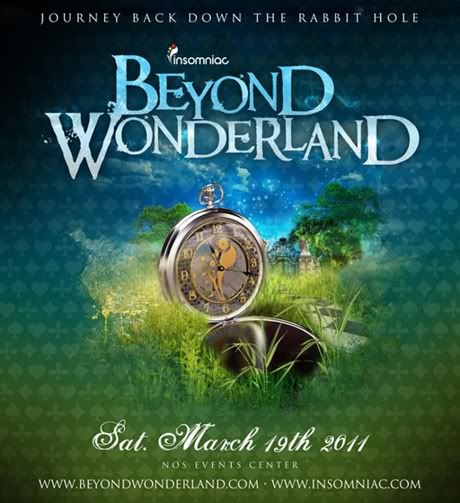 After an action packed weekend to kickstart the festival season here on the West Coast, I couldn't be more excited for the second coming of Insomniac's Beyond Wonderland – the first California massive of the year and a much anticipated one at that. Last year's debut of Insomniac's Spring festival was not only an incredible success, but was monumental for what has become one of the many sub genres that have grown to rapid popularity within only a year. Following up a stacked first year lineup, Beyond Wonderland 2011 features even more of a powerhouse showcase of some of the best artists both new and legendary. The event once again takes over the NOS Events center in San Bernadino this Saturday, this year boasting another five stages on the festival grounds.
This years festival will also be showing off some of the craziest art installations yet. Much like the ones presented @ EDC and Nocturnal Festival, except this time around Beyond Wonderland will feature its first ever interactive L.E.D. art installation, the Syzygryd – a metal sculpture measuring 60 feet in diameter and 13 feet tall at its highest point. It consists of three giant spiraling metal arms that join into a tornado of cubes in the center of the space. At the outer edges of the sculpture are three touchscreen grid sequencers which allow people to visually compose music together. The touchscreens are also connected to DMX controllers which sequence 1.5 kilowatts of LEDs and an array of flame effects, including a 20 foot fire tornado in the center. In short, the music composed by three strangers will be translated into fire, light, and sound. WOW.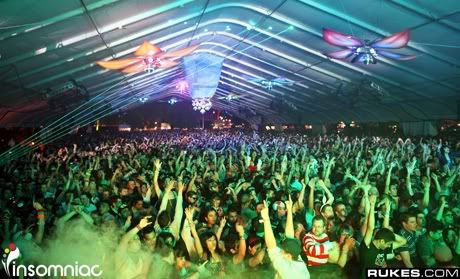 Here's where it gets fun for you dirty dancers. Once again, Gotta Dance Dirty™ will be in full attendance at Beyond, covering every stage and bringing you full live coverage via Twitter and facebook with on stage photos, video and maybe even some of the quick interviews I love to pull on the fly. See all you heads out there – we're gonna get on a good one.
STAGES w/LINEUP:
QUEENS DOMAIN
Kaskade, Dirty South, Calvin Harris, Funkagenda, Manufactured Superstars, Sunnery James & Ryan Marciano, Adrian Lux, Peacetreaty
MADHATTERS CASTLE
Infected Mushroom (live), Cosmic Gate, Christopher Lawrence, Judge Jules, Simon Patterson, Andy Moor, Showtek (special guest)
CATERPILLAR GARDEN
Noisia, Datsik, Joker & MC Nomad, Dirtyphonics (live), Netsky, Fresh, Jakwob, Kastle
CHESS VILLAGE
Richie Hawtin, Loco Dice, M.A.N.D.Y., Marco Carola Paco Osuna, Jamie Jones, Droog
CHESHIRE WOODS
Bad Boy Bill, Congorock, Donald Glaude, Kill the Noise, Porter Robinson, Zedd
QUICK INTERVIEW QUESTION: Many of the artists in the lineup answered some pretty funny questions in the 'get to know' section of the Beyond Wonderland official site – this one peaked my laughter:
"I would rather _____, than listen to ______"
Cosmic Gate – "We would rather listen to cheesy pop, than listen to deathmetal stuff!"
Showtek – "We would rather piss blood, than listen to Marlyn Manson."
Infected Mushroom – "I am going to refrain from answering this to not offend anyone haha"
Android Cartel – "We would rather be crucified, than listen to Tiesto."
Manufactured Superstars – "I would rather do what we want, then listen to someone tell us what to do… Cause we do whatever we want!"
Sunnery James & Ryan Marcianoo – Sunnery: "I would rather eat my shoes , than listen to Kaddafi." Ryan: "I would rather swim from Amsterdam to New York , than listen to my first production."
Kastle – "I would rather lead my own path, than listen to the majority."
Dirtyphonics – "We'd rather stop eating oysters, than listen to Bronski beat."
Andy Moor – "I would rather DJ in woman's clothes, than listen to a live performance of Milli Vanilli"
Porter Robinson – "I would rather listen to pop radio than listen to pretentious indie bullshit."
Simon Patterson – "I would rather Sleep, than listen to Rap"
**(VIEW THE REST OF THE QUESTIONS HERE)
TUNAGE : (to get your proverbial 'party started')
• Wolfgang Gartner – Anthology Mashup √+
• Calvin Harris – Awooga new!
• Sidney Samson – Punk (Sidney Samson Remix) √+
BUY TICKETS HERE
SET TIMES (.PDF)
VIEW FESTIVAL MAP
OFFICIAL SITE/MORE INFO HERE
Comments
Comments