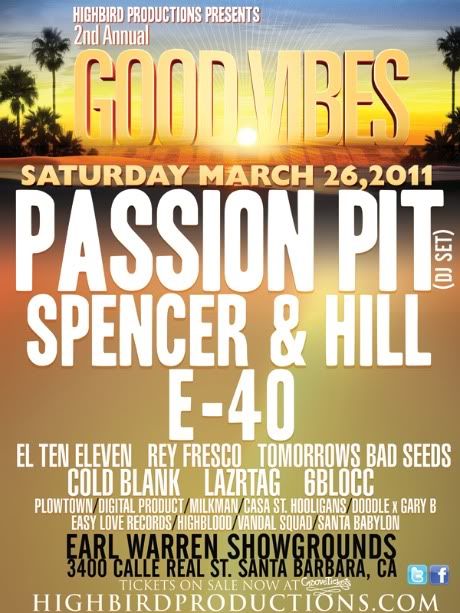 Our friends over at HighBird Productions have been kindly bringing electronic music events to the oft overlooked area just north of Los Angeles better known as the Ventura/Santa Barbara counties for some time now. HighBird is the Ventura County based company responsible for the burgeoning electro scene in that area. Traditionally doing line-ups of local talent supplemented by one or two bigger names from the world of EDM, the boys have decided to step their game up with their next endeavor: GOOD VIBES at the Earl Warren Showgrounds in Santa Barbara. While I have personally surveyed the landscape of the Showgrounds with the intention of hosting a little party there, I can tell you the facilities are primed to offer you one of the best possible outdoor festival experiences you could find in the greater Santa Barbara area.
Taking place this coming March 26th from 1PM-10PM the festival offers two stages, 15+ artists from all over the spectrum of not just dance music, but music with good vibes in general. If you're not headed to the sold-out Ultra Music Festival in Miami this weekend, a getaway to beautiful Santa Barbara wouldn't be a bad idea. Good Vibes will be the first stop on Spencer & Hill's (whose track 'Call My Name was sitting at #1 on Beatport's Electro House chart all last week) North American tour, while you'll also be privy to the musical stylings of Passion Pit, E-40, Cold Blank, etc., as well as the homegrown talents of Milkman, EasyLove Records, Plowtown and more.
Here's that essential information without my ridiculous banter around it:
• March 26th, 2011
• Festival Hours: 1PM-10PM
• Dubstep, Reggae, Indie Rock, Hip-Hop, Electro, House, Indie Dance
• Tickets: $35
• Guaranteed good vibes!
• @Earl Warren Showgrounds
3400 Calle Real Rd., Santa Barbara, CA
So get your tickets HERE.
And check out HighBird on facebook HERE.
And the Good Vibes Festival on facebook HERE.
And grab some essential festival tunes BELOW!
Cold Blank: March 2011 Mixtape by Cold Blank
Plowtown – Good Vibes Promo Mix by Dj Rico Suave
Comments
Comments