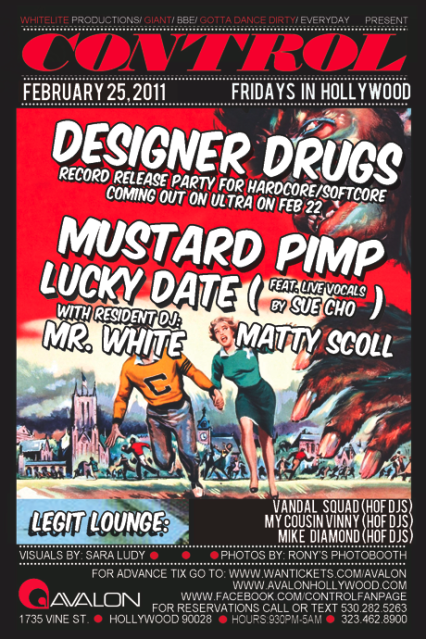 Los Angeles! After one week off, I know you're dying to get back to the Avalon for another rockin' night of CONTROL. This week happens to be especially special, as the Designer Drugs boys will be celebrating the release of their new album, Hardcore/Softcore, which came out this week. Supporting the grindhouse guys will be Dim Mak's hard-hitting French duo, Mustard Pimp, as well as a performance from Lucky Date featuring live vocals by Sue Cho and DJ sets from Mr. White and Matty Scoll.
Please RSVP all 21+ names to jonah@gottadancedirty.com to be on our discount ticket guestlist for the evening. All names must be submitted before 5:30PM on Friday.
Pricing:
21+: $15 before 11PM
Tunage:
Head over to sweetFA's post from earlier this week to check out what he had to say about the new album, as well as Drop The Lime's remix to DD's first single off of the album, Through The Prism.
______
♥

jonahberry
Comments
Comments