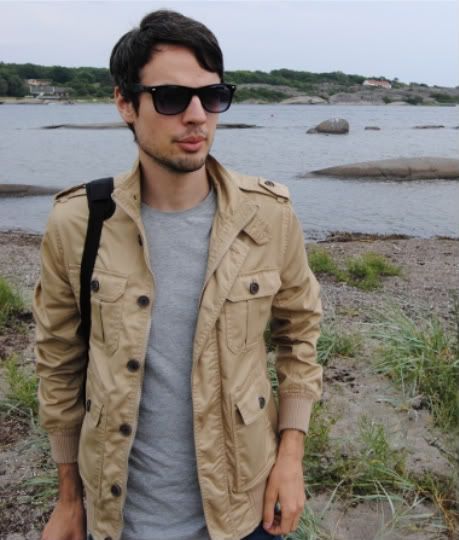 At 24 years young and really just hitting his stride when it comes to producing, I have a feeling you'll be hearing a lot from up-and-coming Norwegian artist Funkin Matt. If you haven't heard of him yet, don't worry, you'll likely hear one of your favorite DJs playing his tunes out sometime soon, if you haven't already. Bart B More dropped the recent release 'Anywhere' mid-set last night at the new Dimmak Loft Series party here in LA, and Laidback Luke featured the tune in his Essential Mix this last weekend. With big support from big artists, and a budding self-run label called Fjordin, I imagine it won't be long till Mats is on stage with the big boys himself.
Funkin Matt – Anywhere (Original Mix) by DirtMcGirt
Mats was kind enough to throw together an exclusive mix for GDD™ and allow me to say this is some damn good stuff! Spot-on mixing starting you off slow and steady and culminating in the euphoric house masterpiece 'Anywhere,' AKA your new favorite song. Here's what he had to say about it…
"This mix is an all-nighter in under 60 minutes. Ranging from broken up beats to indie to disco to deep bass and even anthems. I've featured both of my upcoming tracks on Fjordin, Monk and Arp, as well as some new remixes. One for Malente's upcoming label No Brainer & one for DeLooze's upcoming release on Gash Digital. So look out for a lot of upcoming and exclusive tracks!"
Grab the mix, peep the tracklisting, and make sure you read the interview after the jump!
GDD™ FUNKIN MATT EXCLUSIVE MIX <<< Mediafire DL
Charlotte (Canblaster Remix)
Delooze – We Are Transient (Funkin Matt Groovin Remix)
Canblaster – Clockworks (Teki Latex & Para One Remix)
Malente & Rubix – Afrikan Boogie
BeatauCue – Discue Oh
Aniki – Lesbian Bondage Fiasco
Funkin Matt – Monk
Funkin Matt – You Bring Me Joy
Might – 9th Hour Girls (Aniki Remix)
Drop The Lime – Hot as Hell (Canblaster Remix)
Funkin Matt – In Or Out
Twist It – Funky Monkey (Funkin Matt Remix)
Alex Kassel – Chasing the Dream (Funkin Matt Remix)
Funkin Matt – Arp
Funkin Matt – Anywhere*
*expect to hear 'Anywhere' all over Miami in March.
GDD: Alright Mats, keeping with Gotta Dance Dirty tradition what's your drink of choice if you got one, first round is on us when you make it out west…
FM: Mojito! Because it's the summer drink.
GDD: Drinking the summer drink in the depths of winter in Norway does it at least give that feeling that it's summer? Warm you up a bit?
FM: Yeah man, it really does!
GDD: Good you gotta keep warm somehow. Is your guy's alcohol really as expensive as I've heard it is?
FM: Yes it really is.
GDD: Where are you living anyways? Oslo?
FM: Used to live in Oslo but I'm out in Bergen on the west coast.
GDD: How's the scene for house music out there in Norway?
FM: Well, it's becoming better. But it's not as big as the rest of Europe by far. We got some good and upcoming artists, but nothing like Sweden… yet.
GDD: Well are there other Norwegian artists if any that have influenced your musical tastes?
FM: I would say, David Pollen, a good friend of mine, definitely has through the years and right now I'm really liking Aniki who makes disco cutup housey stuff.
GDD: Cool I'm sure they'll appreciate the shoutout Do you play the majority of your shows out of town then? Hop across the border to Sweden perhaps?
FM: I've actually never played in Sweden, but I've been to the Netherlands and France and I'm playing more and more in Norway as well so it's coming along. I'm getting my own night every other Thursday here in Bergen soon, too.
GDD: Congrats! So you've found a few other good artists in the area as well?
FM: Well I'm searching but I can't namedrop anyone right now unfortunately. I'm always looking for upcoming producers that could release something on my new label.
GDD: What was the inspiration behind starting Fjordin anyways? Lots of artists start their own label nowadays, is it just a matter of being able to do things exactly how you want and on your own schedule?
FM: Well it started some years ago, maybe 2 years or something like that. I was signed to Sidney Samson's Samsobeats, but I wanted to do something different with a Norwegian profile. And my sound was kinda drifting away from the typical "Dutch sound" anyways, so I wanted to create something new and original. I got a good collaboration with Gregor Salto, so they do all the business parts for me, and I get new releases, being the A&R. It gives me full freedom of what I want to release and when I want to release it.
GDD: Yeah definitely and it's good to give it that Norwegian name/face to what you're doing… [Fjords for those of you who don't know are a staple of the Norwegian landscape]
FM: Yeah other labels have they're schedules that you have to follow and it's a good tool for me to further make my own sound, with no limits.
GDD: How'd you get your start making beats in the first place? Were you a DJ or producer first?
FM: Producer. My best friend David came to me with a copy of Dance Ejay 2. We were only 12 years old and started making beats for fun. 4 years later I got my first record deal in the UK. I became a DJ shortly after but didn't play out of my room before I was 18. Then I got my first "breakthrough" in 2007 with Samsobeats. Then I really found my sound with the Shake It Don't Break it/Hit Me EP.
GDD: What's your setup like in the studio/on the decks? You've been doing this for some time you got any cool hardware laying around?
FM: Well, to be honest, I have one synth module, which I don't use. Two midikeyboards, an external soundcard, a couple of monitors and a mic. So I'm very much software based. Reason 5/Record 1.5 is my best tool. I've also played with Ableton and Rewire to get the VST possibility, but mostly its just a midikeyboard and Reason.
GDD: Well it all sounds like it's working out for you regardless.
FM: Yeah and DJing I'm a CD guy, was a vinyl guy, still not a laptop guy. Probably never will.
GDD: So as someone who got his start using vinyl how do you feel about the accessibility of DJing nowadays? Is it something you see as detrimental to or good for the industry?
FM: Man, it's really "easy" to start DJing now. You get cheap, good equipment that's easy to learn on and you don't have to order in lots of heavy vinyl from abroad to play the music you like. It's just one click to Beatport, load it to a USB and you're off. Regarding how good it is for the industry, well I still think the most talented artist probably will go the longest, regardless if everybody can DJ, not everybody can be the best so I actually think it's a good thing.
GDD: I feel you, at the lower levels it's obvious you get a bunch of shit DJs but as whole I think it elevates the creativity of everyone who gets to the top.
FM: Exactly! More talents, which before might not have gotten into DJing, have the ability to try it out now.
GDD: What has been your biggest thrill so far in your career, whether it was a show you played, a track you made getting played out by a big name you admire, this interview…
FM: [Laughs] Well it's the interview, but after that it has to be my first gig in Amsterdam at a club called Escape. I was 21, played at 1AM and the club was packed. And it was the best set of my life. Will never forget that. Felt like a short moment and it was over but it was my first and best gig abroad no question about it!
GDD: Sounds like a great experience…
FM: Definitely was. Ever my friend who "hates house" was ecstatic. [laughs]
GDD: People think of Amsterdam as this sleepy, laidback place where everyone is high but those kids know how to party.
FM: [Laughs] Yeah, well it's both.
GDD: Best of both worlds. You haven't been stateside at all, correct?
FM: Only one time on vacation… road trip on the west coast and the east coast. I saw some Amish actually… wonder if they party.
GDD: You should have played some of your music for them!
FM: Yeah, I should have, don't know If they would have understood that it was even music though.
GDD: What other kinds of music do you listen to when you're not searching for new Fjordin tunes or tracks to play out in your sets? What's on the stereo when you need to relax?
FM: I like funk, jazz… right now I'm listening to Jamiroquai. St. Germain as well is some good relaxing music.
GDD: So you're just a groovy kind of guy.
FM: [Laughs] Yeah, I also like those Verve Remixed compilations and stuff. I listen to everything that I like doesn't depend on the genre.
GDD: Wide range of stuff. Speaking of there is a tremendous range, even just on your recent In Or Out/Anywhere release, in the style of music you make. What's your process like when you sit down in the studio? Do you pump out tracks relatively quickly or are you the methodical type slaving away for countless hours on single elements of every tune?
FM: Well, the thing is I rarely know what I'm gonna make before I make it. So I just sit down, start fiddling with a beat or melody I have in mind and it ends up wherever my creativity takes me. I'm a perfectionist so I take a lot of time making my tunes and a lot of stuff I make never becomes anything.
GDD: On your personal blog you said your In Or Out/Anywhere EP was "a very good idea of what Fjordin is all about." For our readers who haven't heard those tracks yet, can you sum up what Fjordin is all about for them?
FM: It's not one genre, but something in between. It's new music with no boundaries. Something musically and forward thinking. I want every release to be something different. Something like that.
GDD: Gonna throw a curveball at you real quick (don't know if you get the baseball terminology, at least the Germans and Brits I know think baseball is a terribly awful sport) but here's a silly question… get as weird as you want with it. If you had to wear a permanent helmet, or a permanent life vest 24/7 for the rest of your life which would it be and why?
FM: Okay I know baseball, let me think. The first thing that springs to mind is that a helmet would be huge disadvantage in studios, would screw up my sound and deny me of using any sort of headsets, but on the other hand it could be a cool helmet, like Darth Vader. Life vests just look plain stupid. Well I choose an inflatable life vest like you get on an airplane because I could easily tuck it under my clothes and just look obese and sleep in pools whenever I felt like it.
GDD: You get whatever you want!
FM: What would you go for?
GDD: Me? Oh wow I've only ever asked the question.
FM: Yeah I take it you got a smart answer…
GDD: How about an inflatable Darth Vader helmet that would float? BUT! Has really high quality water resistant headphones in it!
FM: [Laughs] Yeah, why didn't I think of that?
GDD: [Laughs] I basically just stole all of your ideas and combined them in to one.
FM: Well too late for me I'll stick with my obese look. Tough luck. Just heard Laidback Luke played one of my tracks in his Essential Mix. That's really cool. He played one on his first EM as well, in 2008 I think.
GDD: That's really great man congrats! That guy is an absolutely phenomenal DJ.
FM: It's good stuff. He's really good and technical as few.
GDD: Okay bud it's creeping up on midnight for you isn't it? I just got two quick little questions for you and I'll let you go.
FM: Yes it is my girlfriend already went to bed.
GDD: I just wanted to give you a chance for a little shoutout. What's your relationship with the Sound Pellegrino guys? They show you huge support all the time, where did that all start? And is that how you landed that gig down in France?
FM: Well they first contacted me through Laidback Luke some time ago and they just really liked my stuff so I made the Dinosaurs With Guns remix for them and they're really showing huge support. I think we just like much of the same stuff and futuristic sound. I think Sound Pellegrino is really a label to look out for. They got some great artists and yeah Teki [Latex] helped me get my first gig in Paris. Hopefully I'll go there some other time as well! I meet them in Amsterdam at ADE, really cool guys not only their music.
GDD: You've been popping up on their podcasts for a long time.
FM: Yes! Almost every Fjordin release has been featured there it's really cool.
GDD: Good to be getting support for doing what you love… okay last question and I'll let you go.
FM: Shoot!
GDD: When you're not behind the decks, or even when you are, do you like to dance dirty?
FM: YES!
GDD: Is that how you swooned your girl in the first place? With your wicked dance moves?
FM: Yeah it is, my moves are really powerful. [laughs]
GDD: [Laughs] Okay Mats thank you so much for taking the time, mate!
FM: Yeah no problem! Was fun!
MB.
Comments
Comments