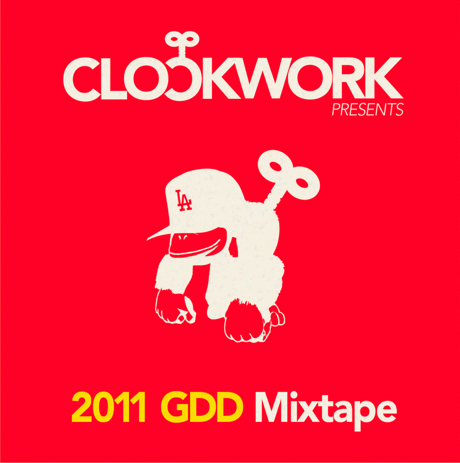 I'm sure many of you have seen the name Clockwork before. Whether it was on GDD™, Hype Machine, or on the winner's list of multiple big time remix competitions, it is pretty apparent that this young lad has made some waves in Electroland in the past year. Originally from LA, now transplanted in NYC, Henry Steinway (Clockwork) is on the rise in the world of Electro, but he doesn't want to bore you with 2008 sidechaining and heard-that-before bangers. His unique take on the over-saturated genre ostracizes his music from the repetition that we are all getting a bit sick of.
I got a chance to chat a bit with Henry about some exciting upcoming releases and his recent Dem Slackers remix competition win as well as his stance on Electro and where he sees it going from here. We were also lucky enough to snag a GDD™ Exclusive mixtape from Clockwork featuring a handful of unreleased and exclusive tracks, so make sure you grab that with the interview after the jump.
Clockwork Presents: 2011 GDD™ Mixtape by ClockworkMusic
Tracklisting:
1. Intro (Kiss The Ring- Raekwon)
2. Fat and Ugly – Indian Giants (Clockwork Remix)
3. Popof – Devil Monkey (Original Mix)
4. Clockwork – Wzup (Original Mix)
5. Para One – Nevrosis (Clockwork Remix)
6. Digitalism – Blitz (Harvard Bass Remix)
7. Clockwork – Two Left Feet (Original Mix)
8. Keith – Get Up Ouch (Original Mix)
9. Felix Cartal – Love (Clockwork Remix)
10. Mr Gecko- Blink (Burns' Start-Stop Remix)
11. Konovalov – Smile Now (Modek Remix)
12. Popof – The Chomper (Matt Walsh Remix)
13. Mercurius FM – 1997 (Clockwork Remix)
14. Clockwork – Breaker (Original Mix)
15. Dem Slackers – Swagger (Clockwork Remix)
16. Style of Eye & Magnus – Antidote (Clockwork Edit)
17. Worthy – Big Perm (Harvard Bass's Permed Out Remix)
18. Torben Boswich – I Move On (Style of Eye Remix)
19. Clockwork – Blackout (Original Mix)
20. Valerna – Amazing (Clockwork Remix)
21. Mark Ronson Ft. Boy George – Somebody to Love Me (Congorock Remix)
22. James Blake – Wilhelm Scream
And on to the interview…
Gotta Dance Dirty™: Alright, thanks for taking some time to chat with me Henry, and sticking to GDD™ tradition…
Clockwork: My favorite drink? (Laughs)
GDD: (Laughs) You're good.
Clockwork: Long time reader my man! I'd have to say the Alaskan White from Father's Office in Santa Monica. Have you been?
GDD: No I haven't. Good beer spot?
Clockwork: And better burgers. They have like 50 different beers on tap. Definitely check it out!
GDD: Well we'll just have to grab a drink next time you're back out this way. So you're out in school in NY right? What are you studying out there?
Clockwork: Yeah man I'm studying at NYU in my sophomore year studying music business… go figure. I actually went to school in Boston for my freshman year, but the music scene was pretty lacking, and all the Celtics fans didn't help.
GDD: (Laughs) You're not going to like this but I am a Boston sports fan…
Clockwork: Alright, nice talking to you…
(Much shit talking ensues…BTW I am the ONLY Celtics fan in GDD)
GDD: Alright, alright enough of that. Are you playing any gigs out in NY now? Or are you more concentrated on school and production?
Clockwork: Not too many gigs at the moment, I've been dealing with a lot of schoolwork and trying to balance it with working on productions. In high school, I never really lacked time to work on music, so it's weird not having as much time to produce. So being in college kind of pushes me to work harder.
GDD: Definitely. And you've accumulated a seriously impressive roster of remixes. Most recently ones for Para One, Felix Cartal, and Dem Slackers. Do you have a favorite remix you've done yet?
Clockwork: Probably my Dem Slackers one as it's been getting played out by some big names like Congorock and Felix Cartal, and I have one for our mutual friends Valerna coming out soonish that I'm really happy with.
GDD: Can't wait to hear it! Are you also working on an original EP at all?
Clockwork: Yeah I have a 4 track EP that I have done that is coming out on Lee Mortimer's Wearhouse Music in early May, and I have another track coming out in March on the Wearhouse Music Compilation.
GDD: How has it been working with Lee and the people at Wearhouse?
Clockwork: Lee is a really great guy. I sent him some stuff a couple months ago, and he's been super responsive to all of it. He was one of my early supporters so it was a big confidence booster to have a big name like that behind me.
GDD: That's great to hear. It's really nice that so many 'big time' producers and DJs actually do listen to younger producers that send in their work.
Clockwork: I know. It's getting harder and harder for them to listen to everything though cause everyone and their sister is producing these days trying to get their music heard, so I feel fortunate to have started when I did.
GDD: For sure repetition is all over the place these days. How would you say that your sound sets you apart from the rest?
Clockwork: Well, lately I've been trying to stray away from straight up in your face electro with your heavy saws and sidechaining and trying to explore more innovative forms of dance music.
GDD: Which is probably why Lee Mortimer is backing your shit!
Clockwork: (Laughs) Yeah! I'm excited for the EP to come out, definitely different stuff than I've made before, and I'm really happy with how it came together. All of the tracks are featured in the exclusive mix.
GDD: Ya buddy! So would you say that you see the Electro genre fading away because of the sound tiring out in a way? Or will Electro just necessitate more innovation as you said before?
Clockwork: Well, I think there will always be a crowd for straight up Electro/Brostep type music, but I think that a lot of the artists that will begin to stand out in the future are going to be the ones who come up with new and fresh ideas that people haven't heard before as opposed to the ones just trying to revamp a worn out style. There are a lot of dudes out there that have been proving that nowadays, i.e. Clouds who are quickly making their way to the top of the dance music world because of their unique sound. Those dudes are crazy.
GDD: So who else besides Clouds (and you) would you say to look out for this year?
Clockwork: Well, my friend Modek from Belgium has been making some insane tracks lately, one of his recent ones came out on Don Rimini's new compilation. Of course the homies, Valerna, who have only gotten better and better. John Roman's been making some amazing stuff as of late, and also Fat and Ugly who is a super nice guy and making some really dope tracks. And I think it will be a big year for Felix Cartal, who has been supporting my stuff recently.
GDD: So basically watch out for the young guns!
Clockwork: (Laughs) Exactly! It's actually been dope to be able to talk to Felix because I can sort of relate to the earlier stages of his career, as he was in college/my age when he first started blowing up. He's given me a lot of good advice and the support doesn't hurt either!
GDD: Ya Felix is a great dude. He actually did one of GDD's first interviews…
Clockwork: I remember! Way back in the day!
GDD: Way back! Alright I do feel like I could ask you questions all night, but I think we need to just finish up with a couple more questions. Do you see any huge differences from the NY/LA scenes or are coastal Electro patrons pretty standard?
Clockwork: Well, it's been interesting growing up in Los Angeles and then moving out here, so I've been seeing the evolution of dance music on both coasts, but I think they are both pretty similar, as they are the Mecca's of not only electronic music, but music in general. Aside from the Trouble and Bass nights, Santos Party house, and Webster Hall, there aren't too many other spots in New York that feature specifically "Electro" nights whereas Los Angeles is filled with them. (I think Control is one of the best parties going on these days)
GDD: Well that's good to hear that there's love for Electro across the board. And thanks for the CONTROL plug ☺ Cant' wait to have you play there sometime soon. So before I ask my last question, is there anything that you have going on or coming up that GDD™ nation needs to know?
Clockwork: Well let's see, I was just announced one of the winners of the Dem Slackers remix competition only a couple days ago, so that will be getting an official release on Boemklatsch Records. Also, I have a remix I did for Mercurius FM that will be coming out on Teenage Riot Records very soon, which I'm stoked about. Mercurius actually told me that JFK has been playing out his edit of my remix, which is really awesome. Besides that, I'll be busy working on more original stuff while I grind away at school and wait for my other releases to come out.
GDD: Man you're really racking up the support! Congrats on that. Alright and time for the standard GDD™ last question. Do you like to dance dirty?
Clockwork: (Laughs) Yes, been waiting for that one, what other way is there?
GDD: Nicely put! Thanks again for the time Henry we look forward to a great 2011 for you.
_______

♥

jonahberry
Comments
Comments