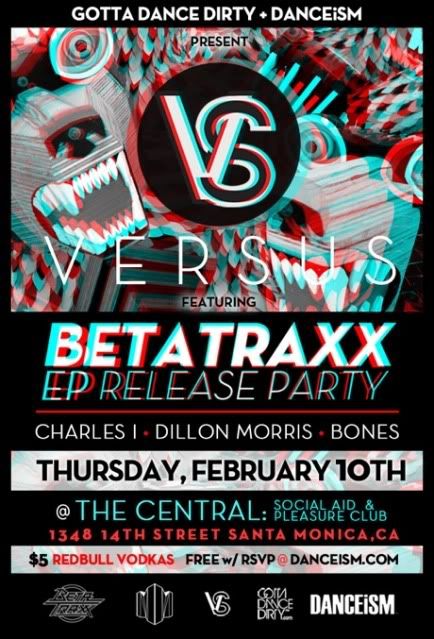 We are extremely excited for this week's Versus party at The Central in Santa Monica. Our good friend Tim Nelson, whom you might know as BetaTraXx, will be hosting his Drug Abuse/Mafiosa EP release party this Thursday with a live performance by BetaTraXx and his live drummer, Niq G, as well as a few fantastic sets by our friends Charles I, Dillon Morris, and ///BONES. Once again, we are making this FREE to the masses with RSVP at DANCEiSM.com, so come on out and show some support for BetaTraXx and our family at Metamimetic Records.
Listing Info:
The Central: Social Aid & Pleasure Club
1348 14th St., Santa Monica, CA
FREE w/ RSVP at DANCEiSM.com
21+  9PM – 2AM
$5 Red Bull + Vodka All Night (I know, right?)
Tunage:
Check out the great new stuff we've recently posted from Charles I HERE. And jump over to our post earlier this week to grab the entire Drug Abuse/Mafiosa EP.
PS – BetaTraXx is looking for some seriously talented shufflers for his upcoming music video, so if you consider yourself one of the dirtiest dancers out there, email me at jonah@gottadancedirty.com if you're interested in showing your stuff!
________
♥

jonahberry
Comments
Comments