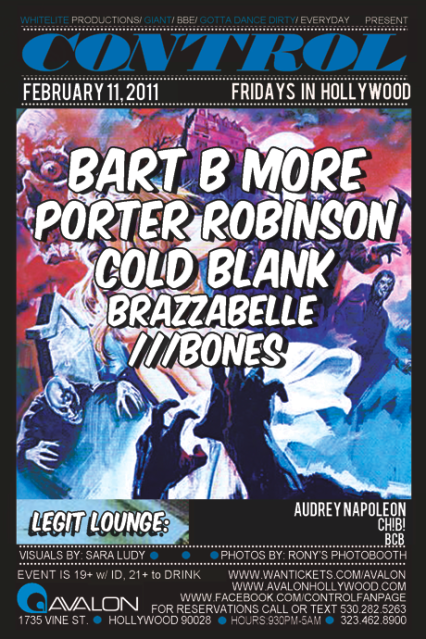 This week, we bring you an AMAZING night of CONTROL at the Avalon in Hollywood with an entire lineup of GDD™ homies. The kind Dutchman, Bart B More, will headline the event along with the fastest rising young producer in the Electro House scene today, Porter Robinson. In support will be LA Electro-duo Cold Blank, as well as an opening set by the lovely Brazzabelle and a late-night closing set by our own ///BONES.
Please RSVP names to jonah@gottadancedirty.com to be on our discount ticket list for the evening. Guestlist space will be limited, so to ensure entry you can purchase presale tickets HERE but they will sell out before Friday. All names must be submitted before 5:30PM on Friday night. Whether you buy tickets or are on our guestlist, make sure to ARRIVE EARLY as this event will reach capacity.
Pricing:
21+: Discount tickets will be the same as the presale tickets ($30)
Tunage:
Today I have tons of tunes for you, so grab a mix from Bart, a mix from Porter, and some other goodies after the jump.
Bart B More – 2011 USA Tour Mixtape √++
Tracklisting:
1. Bart B More – Basement Beats
2. Siriusmo – Feromonikon
3. Oui'wack – Jungle Wars
4. Cee Lo Green – Fuck You (Bart B More Remix)
5. Gonzales – Never Stop (Erol Alkan Rework)
6. Scissor Sisters – Any Which Way (Carte Blanche Remix – Erol Alkan Edit)
7. Drop The Lime – Sex Sax (Bart B More Remix
8. Carte Blanche – Gare Du Nord (Green Velvet Remix)
9. Starski – Sunstruck (Bart B More Remix)
10. Strip Steve & Das Glow – Calcium
11. The Benelux – Girl Singer (TWR72 Remix)
12. Bart B More – Music, Music, Music
13. Rob Threezy – Chicago on Acid /w Daft Punk – Technologic (Acapella)
14. Bart B More & Tommie Sunshine – Drop Acid (Riptide Remix)
15. Mumbai Science – Gold
16. TAI – Big Bass Drum (Bart B More Remix)
17. Harvard Bass & Bart B More – Listen To This
18. Malente & Azzido Da Bass – Hunting (Dem Slackers & Fake ID Remix)
19. Harvard Bass & Bart B More – The Dark One
20. Jaimie Fanatic – Loose Control
21. Bart B More – Gilles
22. MMM – Nous Sommes
23. Bart B More – Brap
24. Dirty Super Car – Get A Grip (Maximilian Remix)
25. Dirty Super Car – Get A Grip (VIP Edit)
Porter Robinson – Jan/Feb Mix *GDD™ Exclusive!

Tracklisting:
1. Paul Harris vs. Eurhythmics – I Want You (Bar 9 remix) – Cr2 Records
2. Datsik, Excision – Boom (Skism Remix) – Rottun Recordings
3. Skrillex, Bare Noize, Foreign Beggars – Scatta – Mau5trap
4. Skrillex – Scary Monsters & Nice Sprites (Noisia Remix) – Mau5trap
5. Nero (UK) – Innocence – MTA Records
6. Twist (UK) – Fear – Wicky Lindows
7. Feed Me – Grand Theft Ecstasy – Mau5trap
8. Dada Life – Unleash the F**king Dada – Musical Freedom
9. Deadmau5 – Cthulhu Sleeps – Mau5trap
10. Spencer & Hill – Dub Disco (Lucky Date Remix, Porter Robinson Edit) – Bazooka Records
11. Wolfgang Gartner – Illmerica – Ultra
12. Spencer & Hill – Right on Time – Tiger Records
13. Felguk – Whatever Clever (Dirtyloud Remix) – Plasma.Digital
14. Porter Robinson, Lazy Rich, Sue Cho – Hello (Original Mix) – Big Fish Recordings
15. Porter Robinson – The Wildcat (Lazy Rich Remix) – Big Fish Recordings
16. Porter Robinson – Say my Name (Original Mix) – Glamara Records
17. Porter Robinson – Say my Name vs. I Will Be Here vs. Conscindo (Live Edit) Glamara Records/ Ultra/ Toolroom Records
18. Steve Aoki, Bloody Beetroots – Warp 1.9 (Original Mix) – Dim Mak
19. Tim Berg, Avicii – Seek Brokmance (Porter Robinson Dub Remix) – Ministry of Sound
20. Spencer & Hill – Less Go (Porter Robinson Remix) – Bazooka Records
¡BONUS!
• Cold Blank – Los Angeles (Original Mix) √+
_________
♥
jonahberry
Comments
Comments