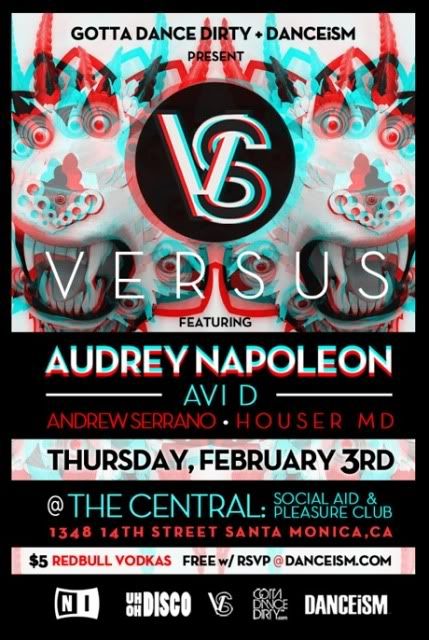 This week at VS. we'd like to take you deep into the world of dark techno. Our good friend, Audrey Napoleon, will be headlining the night along with support from Avi D, Andrew Serrano, and Houser MD. If you haven't heard about our new West Side weekly by now, come on out and see what all the hype is about tomorrow night. Again, the party will be FREE w/ RSVP at DANCEiSM.com this week, along with $5 Red Bull/Vodkas all night so don't worry about breaking the bank. Let's get hopped up and listen to techno.
Listing Info:
The Central: Social Aid & Pleasure Club
1348 14th St., Santa Monica, CA
FREE w/ RSVP at DANCEiSM.com
21+  9PM – 2AM
Tunage:
• Stedd & Numca – Hamlet (No Body's Just Brain Edit) √+

Fantastic big room, ravey remix by our friends, No Body. They take Dada Life's favorite user-submitted track and make it fit for the big stage. Really looking forward to more production from these guys. Hop on over to DSCOTECH to check out their blog.

• Ellie Goulding – Lights (Bassnectar Remix) √+
It's exactly what you'd expect from the song title. Ellie Goulding's angelic vocals matched with Bassnectar's unmatched production style.
________

♥

jonahberry
Comments
Comments