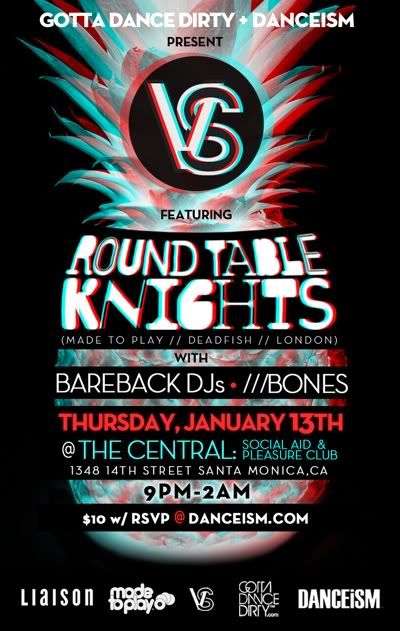 After working in the electronic music scene for quite some time now, I have seen so many acts so many times that occasionally the repetition of over-saturated artists in Los Angeles can create a strong sense of redundancy. But now, with the emergence of the VS. party in Santa Monica, GDD™ and DANCEiSM have vowed to bring the West Side of Los Angeles a breath of fresh air by trying to insert exciting, top notch acts that will smash all notions of duplication. With this in mind, we are very proud to be hosting our second VS. party tomorrow night at The Central in Santa Monica with Made To Play and Deadfish stars, Round Table Knights. This will be the first date on their North American tour, and we couldn't be more excited to have them as our first big headliner in 2011. Supporting RTK will be our good friends, Bareback DJs, and GDD™'s own, ///BONES.
RSVP at DANCEiSM.com
for
$10
tickets
at the door. This is a small price to pay to see the Los Angeles debut of such a huge talent! This event is 21+.
I had a chance to ask Marc and Biru a few questions the other day, so have a look at our interview below and we'll see you all tomorrow night!
gottadancedirty™: Thanks so much for taking the time guys, and we are really looking forward to this week. To start off, what's your favorite drink? We'll make sure to grab you a few this Thursday…
Marc: Moscow Mule
Biru: Whisky Sour
GDD: What music did you guys grow up listening to? What kind of music do you guys get in to when you're not working on RTK?
Marc: I started playing guitar and skateboarding when I was 11 years old, so I listened to a lot of punk-rock stuff at this time. Then in my teens hip-hop was big. Stuff like: A Tribe Called Quest, Camp Lo or Outkast. That's also what got me into DJing. After this period of my life I got really open minded. I listened to everything what sounded new to me.
Biru: For me also Hip-Hop was the big thing but of course always open for other stuff.
GDD: How did you guys become part of the Made to Play family? And also Deadfish?
Marc: The first connection we had to these guys was through Zombie Disco Squad. They were the first guys who booked us to London. I think it was 3 years ago. When we finished the track 'Belly Dance' we sent it to the Zombies and Mowgli to get some feedback and Mowgli liked it so much that he made it our first proper single on Deadfish. The connection with Made To Play came later, when met Jesse Rose at Club Bonsoir in Bern. We played Calypso in our set and he heard it. He liked it so much that he immediately signed it to Made To Play.
GDD: The tropical, techy sound is becoming exponentially more and more popular lately, and in my mind, is definitely the "genre to watch" in 2011. Would you say that you guys are at the forefront of this rapidly emerging and growing movement?
Marc: I dont know if I would describe our music as tropical. Sure we have some tracks with some tropical elements, but thats it. I think it's house music in general which is a genre to watch in 2011. All this banging electro stuff over the past years was just too much. People appreciate the warm positive sound of good house music again.
GDD: You guys received massive support in 2010, namely for the massive "Calypso" track. How does it feel knowing artists like Erol Alkan, Brodinski, and Major Lazer (just to name a few) are supporting your music?
Marc & Biru: It's incredible. We never thought that this would happen because 'Calypso' was already kind of old to us when it was released on Made To Play. It first came out on a US label as a bonus cd of a limited editon t-shirt. Then 5 months later Jesse Rose heard it and signed it to made to play. Lucky us!
GDD: What is your studio setup? Any details to get your guys' signature sound just right?
Marc: When I make music for Round Table Knights I use my powerbook and my headphones. If I have something, an idea, a sketch, a loop or whatever we go to the studio of Benfay. He is the third man of Round Table Knights. He has a great studio in the countryside of Switzerland, and he is an incredible talented sound engineer and musician. It's his studio so I cant talk much about the setup there, maybe you should ask him.
GDD: What do you guys have in store for 2011? Any collaborations or major releases coming up?
Biru: Yeahh our first album will come out at the end of February on Made To Play! We really happy about this! You can already check out the album title track Say What?! feat. Ogris Debris.
Marc: Also, we have some remixes coming up of course and we are working on a compilation right now. I cant give any details cause its too early, sorry. There are also already some ideas for new Round Table Knights tracks.
GDD: What were your biggest high points of 2010? And do you guys have any New Year's resolutions for the upcoming year?
Biru: Hmm really hard to say! 2010 was such a amazing year for us! But let's say getting signed to Made To Play, playing almost around the world with shows like Sonar Festival, Panorama Bar, US-Tour, Australia Tour etc. and maybe that we finish our first album! Yeah! Hmm no I don't really have any New Year's resolutions… Maybe drink a bit more water then these sweet soda drinks.
GDD: Lastly, what are you guys most looking forward to about touring out here in North America?
Biru: Yeahhh we are looking so much forward to this tour! Happy to be back again and playing great party's and meet nice people and if there is a bit time to discover some cities!
Marc: Basically just the usual stuff: Checking out the cities, meeting nice people, I really like hanging out in North America.
Well we really look forward to meeting you guys, and thanks so much again for your time fellas!
Tunage:
Say What?! feat. Ogris Debris by Round Table Knights
Cat Power by Round Table Knights
And I'm sure you've all heard this monster from 2010…
Comments
Comments