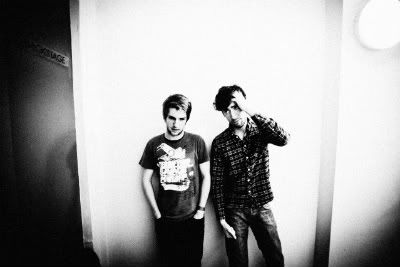 photo credit: Jules Gahide
If you've been sleeping on
Mumbai Science
please do yourself a favor and wake the fuck up. Sorry for being so blunt, but if massive support from the likes of Boys Noize, Erol Alkan, and 2manyDJs hasn't piqued your interest then I don't know how else to draw your attention to the fact that these two Belgian scientists are hotter than a Bunsen burner and here to stay.
Grab the mixtape they put together just for you dirty dancers and make sure to peruse my chit-chat with Jonas and Maarten below and get to know 'em, cause they're your new favorite duo.
• Zombie Nation – Squeek
• Wolfgang Gartner – Yin
• Chilly Gonzales – I am Europe (Djedjotronic remix)
• Gesaffelstein – Variations
• Highbloo – Guiro (Mumbai Science remix) [Beatport]
• Koen Groeneveld – The Rudder
• Lucca – Teleport (Da Fresh remix)
• Digitalism – Blitz (Harvard Bass remix)
• Electric Rescue – Ambivalent
• Highbloo – Time to Change part 1
• Mumbai Science – Gold [Beatport]
• Tiga – Burning Down (Mumbai Science Edit) Wooaah!
• Dusty Kid – The Cat
And now for the interview after the jump!
GDD:
How you doing fellas?
Jonas:
Great. Just arrived at the house after a few liquors at the Christmas market. It's a Belgian thing.
Maarten:
Good! You?
GDD:
I'm good. Starting with that, and in GDD™ interview tradition, what's your alcoholic beverage of choice? When you make it out west the first round is on us (written off as a company expense of course.)
Maarten:
For me a Stella Artois, please.
Jonas:
I want to try all the shots, and specifically the Jagerbombs. I've heard a lot about them but the last time we visited the USA we didn't get the chance to try anything besides Sam Adams and Bud Light.
GDD:
Should you guys be drinking booze and handling expensive lab equipment? I heard you guys were in like, a serious science lab earlier. What field of study are you guys in?
Jonas:
We lost one expensive camera once, since then we can't drink on the job anymore but yeah, during the day we're experimental psychologists specialized in consumer behavior. We try to figure out how people respond to brands and ads.
GDD:
So do all of your co-workers know what you guys do when the sun goes down?
Jonas:
Well, our co-workers do, our bosses don't.
Maarten:
Well, kind of. In general, but I guess they don't know all the specifics.
GDD:
So I'll make sure to keep your full names confidential then I guess.
Maarten:
Use codenames. I'll be Matt Black.
Jonas:
I'll be Stevie White. Who is Mr. Pink?
GDD:
Are we playing a game of
Clue
now? Why don't we just start with a description of the mix you guys did for us then. Is it a lot like a DJ set we might see you guys play out?
Jonas:
Yeah we tried to make a mixtape where you guys really get to know us. A combination of tracks we made, tracks we love, and tracks we play out. A Mumbai Science crash course in fifty minutes.
GDD:
Perfect. Any plans on when we'll be able to catch a Mumbai set over here in the States?
Jonas:
We're working on that for the moment, but we can't be very specific. Let's just say that 2011 will be the year the States get to know Mumbai Science. The sooner the better right?
GDD:
Tonight would be nice I don't have any plans.
Jonas:
Yeah sorry about that we have to be in the lab tomorrow.
GDD:
Speaking of 2011, you guys seem ready to take over the scene. Everyone is playing your tracks out. Congrats on 2manyDJs playing you out, I saw that video yesterday. What's been the biggest thrill so far?
Maarten:
I guess visiting some of the greatest festivals this summer. As big fans of 2manyDJs, Erol Alkan, Boys Noize, etc. and watching them play our tracks. That was pretty awesome.
Jonas:
The biggest thrill for me was Pukkelpop (one of the biggest festivals in Belgium/Europe) where Soulwax played 'Ancova' for the very first time. I was there in the audience, completely losing it. One of the best parties I've experienced.
GDD:
That's seriously got to be an honor, those guys are absolute legends. Even my dad likes Soulwax! Where did you guys catch that big break that got your tunes in the hands of those big names? I understand the Sound of Stereo boys had a hand in helping you along the way …
Jonas:
Sound of Stereo were big fans from the beginning.
Maarten:
And they introduced us to Dr. Lektroluv.
GDD:
And he of course liked what he heard and signed you guys straight away?
Maarten:
We had some talks before he decided to sign us though.
Jonas:
But yeah he pretty much did. It took a few coffees. He was pretty excited.
GDD:
I wanted to ask too about your former group Project Cyborg. You guys were a full live electro band right? Playing live instruments and what not. Where do your musical backgrounds begin? Was it something you both started with as kids?
Jonas:
Yes, Maarten was the drummer and I played bass. And we both had our synth triggers and a sampler.
Maarten:
But indeed, before that we had our very own rock band. We had a guitarist and a singer.
Jonas:
Every high school kid wants to be a rock star, and so did we.
GDD:
Well you guys are well on your way to being the new brand of rock star.
Maarten:
But we don't have leather pants though, so I don't know.
GDD:
Was your friendship always based on music?
Maarten:
Who said we were friends?
Jonas:
I think we met when we where 14 years old. We always found each other in the creative stuff. We directed plays together, made music together. It's great working with Maarten; we have the same view on things. The only thing we argue about is FIFA on Xbox 360. He is a cheater.
Maarten:
Dude, don't start with me man. I'm gonna spill your coffee over your keyboard in the lab tomorrow.
GDD:
Fellas, fellas. Next question: what are your most influential EDM artists, besides the ones mentioned above.
Jonas:
The early work of Thomas Bangalter, Vitalic, Luke Slater and recently we are very much into Koen Groeneveld and Umek. For the next EP we're looking into working with some vocal artists right now, but it isn't coming out before Spring.
GDD:
So are you guys going to kind of be off the grid for a while or are there gonna be some singles/remixes coming out along the way?
Maarten:
We're in the studio doing some remixes at the moment, and working on that fourth EP. Reinventing ourselves somewhat, trying new sounds, experimenting!
GDD:
We like that! It's gotta be a pretty hectic schedule trying to balance between being rising stars/full-time scientists …
Maarten:
That's why we're doing some research on time traveling in our lab.
Jonas:
Yeah it is! But somehow we manage. The nice part about being a scientist is that you have to think a lot about stuff and you can do that on a train or a plane as well as behind a desk. A time machine would be great though.
GDD:
But dangerous right? Fracturing the fabric of space/time and what not?
Jonas:
Yeah dinosaurs in LA would be a problem …
Maarten:
But no balls, no glory.
GDD:
When you guys do get the time to relax what kind of tunes do you put on? Or do you just enjoy the silence for once?
Maarten:
I'm listening to Funkadelic at the moment to rest my ears after hours of mixing. Although silence is nice as well.
Jonas:
One of my guilty pleasures is DJ Jazzy Jeff. I really like his producing style and he has a lot of collabs with great vocal artists.
GDD:
Amazing. Okay I have a guest question coming in from Dr. Schlongo: If you had to wear a permanent life-jacket or a permanent helmet for the rest of your life which one would it be and why?
Jonas:
Life jacket. Wow, wait, permanent? As in day AND night? I would never sleep again. I would pick a helmet then, because then I would never have to worry about bad hair days.
GDD:
You could sleep in a pool if you had the life jacket though …
Maarten:
I'd take the helmet, but a customized helmet, and I would pick the white Power Ranger helmet. Chicks dig white Power Ranger helmets.
Jonas:
Oh then I want a beer hat, with two straws.
Maarten:
Can I revise my choice?
GDD:
Of course, you get whatever helmet you want.
Maarten:
White power ranger beer helmet.
GDD:
Bold move, let's take it back to the tunes a little bit. Did you guys feel slighted at all by one of your biggest national festivals that you weren't on the bill at I Love Techno this year? And I mean, it was practically like you guys were there anyways, pretty much every set I listened to had 'Hoot,' 'Ancova' or 'Gold' in it. The weekend before at HARD Haunted Mansion out here in LA you guys got insane rep too,
Maarten:
I guess we weren't disappointed at all, because we were happy enough by the amount of times we were played. That was pretty intense.
Jonas:
I was there that night and got to meet a lot of people like Noob who did an amazing remix for our 'Gold' EP. And I'm pretty sure we'll be there next year, but we don't want to rush anything. Just work on our tracks, work on our set, try to develop our own sound and style, and if it's good enough eventually we'll play I Love Techno.
Maarten:
Fingers crossed!
Jonas:
And I saw the movies from HARD Haunted Mansion, I was speechless. Makes me want to come to the States even more! It's motivation for us to work harder and make the best out of everything we start.
GDD:
Is it kind of like a right of passage? I know there are a lot of quality festivals in the area but I mean I Love Techno is I Love Techno … and you guys live right in the area, yeah?
Jonas:
Yeah. I Love Techno is THE party of the winter. Summertime is Pukkelpop. So those two are pretty high up on our wish list.
GDD:
For as small as Belgium is it seems to be producing so much quality music. Are there any more young producers in the area we need to be keeping an eye on? Maybe 2011 will see the typically peaceful Belgians wage a war on the Dutch sound of 2010.
Maarten:
There are a lot of talented producers at Lektroluv Records actually. Highbloo for one.
Jonas:
Yeah! He is a really talented guy. Also a drummer, and producing some crazy tracks at the moment. You all know about Sound of Stereo of course, I think they still have a few tricks up their sleeves.
GDD:
Okay boys I'm sure you're pretty busy and it's been about an hour so is there anything else you want to get off your chest? If not I just have one more question and I'll let you guys run. What is it 11pm there?
Jonas:
It's 12:05AM so let's hear the million-dollar question. I'm gonna have a hard time in the lab anyway tomorrow morning with Maarten spilling my coffee.
Maarten:
I just wanted to get off my chest that I feel offended by Jonas for calling me a FIFA cheater. That's all.
GDD:
Don't worry, Maarten. I'll make sure the people hear your side of the story as well. So I know your #1 rule is to always have fun on stage, but when you're out in the crowd do you guys dance dirty?
Maarten:
I guess I'm not the dirty dancing kind of type. Jonas on the other hand, he's the master. He grinds like the pros.
Jonas:
Yes, I try to dance, and it's definitely dirty. If it's good though … that's the question.
GDD:
The dirtier the better. Okay thanks so much for staying up and chatting with me.
Jonas:
No problem. Thanks for having us. It was a pleasure. Now I'm off to bed. Alarm goes off in six hours.
Maarten:
Anytime! And Jonas don't expect to get your caffeine fix tomorrow.
Prepare for the 2011 takeover boys and girls. Don't say I didn't warn you.
MB
Comments
Comments