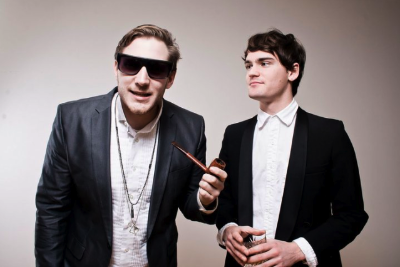 Today I bring to you a GDD™ exclusive interview and mixtape with Prince Club, formerly MadKids, a Montreal-based production/DJ tandem poised for world domination in 2011. Their recently released 'La Charma' EP off Discobelle Records has received massive support from the some dudes named Riva Starr, Brodinski, Style of Eye, Mowgli, Camel, and Congorock, to name a few. Not a bad posse to have your back when entering the ring. Catch my conversation with Max and Zach of Prince Club below, and make sure to snag that mixtape for spot-on mixing and some pulsating house and techno grooves.
GDD
:
Hey fellas! How goes it?
Max
:
I'm good, just made some fat bass today.
Zach
:
All good.
GDD
:
You guys been in the studio all day today?
M
:
Well, I've been making music all day … Zach probably DJed all day. Zach?
Z
:
I've been digging and fucking around on my keyboard.
GDD
:
So go ahead and tell me a little bit about the dynamics you guys have when it does come to creating the music. I know a lot of producer/DJ duos do have someone who tends to lean more to the production side of things and someone who takes care of business a little bit more behind the decks, both obviously integral parts of the group.
Z
:
Exactly Max definitely takes care of the production part and I DJ when it comes to playing out in the club.
M
:
Yeah well basically we both have the philosophy of knowing our strengths and weaknesses. So we came to realize we could accomplish twice as much work if we concentrated on the stuff we were good at … me producing, Zach DJing.
GDD
:
Brilliant! Well you're certainly bringing out the best in each other so far. How long have you two known each other? And was it always about music?
M
:
Yeah we met through music. Zach started a band and he needed a drummer so this girl we knew put us in contact and we had like 2 bands together and then moved on to electronic music.
GDD
:
And that's when MadKids was born? Or were there some other stops along the way?
M
:
Well, we both kind of went our separate ways.
Z
:
A year passed by between the band and the electronic producing.
M
:
And then we realized we should work together since we both moved on towards electronic music after our band.
GDD
:
You guys have covered a pretty decent range of the EDM spectrum in a short time. There used to be some wobbles in the MadKids sound … What big EDM producers/DJs would you say have had the most influence on your direction as artists?
Z
:
That's such a hard question …
M
:
Hmm, well let's see. It was a journey. For my part it started with Rusko, Benga, Skream and all those dudes cause dubstep is so close to hardcore music, it's very easy to produce when you come from that background. Then Zach introduced me to like, AC Slater, Jack Beats, A1 Bassline, Hijack, the whole fidget deal and then one summer we realized we wanted to make house music.
Z
:
My taste always turns around what I consider fresh (to my ears) so yeah it always changes, adapts, evolves.
M
:
But there is something about house music that we both love.
GDD
:
Yeah I'm thinking 2011 is gonna be especially big for the dirtybird/Deadfish sounds. Almost kind of a backlash to the popularity of the whole maximal, electro-house sound.
M
:
I hope so because I think we're in that boat.
GDD
:
Your 'La Charma' EP has been very well received at least from everything that I've seen. The track 'Sax Bomb' especially.
M: Yeah we're pretty happy about the whole turnout.
GDD
:
Where did you guys catch your break as "Prince Club?" Was it through connections made as MadKids, or did you kind of start from scratch since you were going in a new direction?
Z
:
Hmm actually, we kind of felt it was time for us to change our name. It was like the last thing that we were not 100% sure about.
M
:
The name MadKids didn't do justice to the massive house or techno we played out. And Riva Starr said it sucked.
Z
:
We played with him last September …
M
:
And I went and talked to him and he was like, "you guys are good DJs, good producers, but your name sucks. You should change your name before it's too late." Straight up.
GDD
:
Kind of a backhanded compliment, I guess.
M
:
Well no, it's cool. In his case it's okay because he was speaking from an industry point of view.
Z
:
And I personally didn't like the name as well.
M
:
He's a businessman.
GDD
:
Yeah and obviously that guy knows a little bit about the industry …
M
:
Exactly, and he was cool enough to be straight with us and be like, "Yo, I thought you guys played fidget or something," but we play a massive techno set, so it was the final chapter of MadKids. So when you have him telling you that you shut up and listen. He's like the Mr. Miyagi of house music.
GDD
:
So you just say, "Yes, Sensei" and bow your head. You say your DJ sets are massive techno and house, is that what we're getting with this GDD™ exclusive mixtape?
Z
:
What I try to do with a mixtape is do exactly what we would in a decently long DJ set, the key is switching around, start off with some light yet solid housey tunes, then switching between house and tech-house for a bit and then a pretty heavy techno part. That's what we love to do when we have the occasion.
GDD
:
And Max do you stand up there and twiddle knobs with Zach or let him do his thing?
M
:
No. [Laughs]
Z
:
A bit don't lie, Max.
M
:
I let him work. When we DJ we're joined at the brain. I just try to never be in his way.
GDD
:
You got any tour plans in the near future?
M
:
We're working on getting out to Cali soon. Which would be dope, because it's fucking cold here which is not cool.
Z
:
There's a snowstorm right now.
M
:
I had to shovel.
Z
:
I'm not coming out till it melts away. [Laughs]
GDD
:
At least it forces you to stay locked up in the studio!
M
:
Yeah, I never go out anyways.
GDD
:
I was going to ask, what's the scene/crowd like for house and techno in Montreal? There seems to be a steady stream of quality talent coming from up north.
Z
:
Yeah there's definitely a lot of diversity in our city, which is really good at the moment. There is definitely a good vibe for young artists in the city. Dudes like Lunice, Jacques Greene, LOL Boys, and a few others that are coming out real soon. We are very proud of what's going on in the city. As for the crowd you really have to adapt.
GDD
:
Is that artist's scene a pretty tight knit collective of guys that run in to each other around the city a lot?
M
:
Yeah.
Z
:
Pretty much. Everybody have their own direction. I use to be in a band with Jacques Greene actually when I was 14.
GDD
:
Damn, that kid is going places too.
M
:
And Markus from LOL Boys always hooks me up with tracks all the time. He's like a library of tunes. We all know each other.
GDD
:
Well we're all real glad you've headed in the direction you are.
M
:
Yeah it's a beautiful place to grow as an artist.
Z
:
Really exciting times for MTL.
GDD
:
Really exciting times for all of us then. What was your inspiration for the forthcoming '303s & 808s' track, which I'm awkwardly excited about.
M
:
[Laughs] I sample a lot of vinyl and I often get old school house vinyls and when you listen to something so much it just goes in you.
GDD
:
So is that where you channel a lot of inspiration from in the studio … trying to capture some of that old, pure house sound and put a new twist on it?
M
:
I'm not really conscious about what inspires me. Before, I would sit in front of my computer telling myself this what I have to do and listen to a track and try to make the same vibe, but now I just make what the fuck I want. Someday I'll make like three different rap beats and some days I sample the shit out of anything and find weird sounds.
GDD
:
Okay fellas, we can wrap up but I got to ask you two more important questions. First, what's your drink of choice, first rounds on GDD when you get to LA …
Z
:
JD.
M
:
Weed.
GDD
:
NICE!
Z
:
That's because he drinks like a girl. And I smoke weed like a fairy.
GDD
:
[Laughs] Have you ever had [CENSORED]?
M
:
WHAAAAATT?! Dude. I want.
GDD
:
Beautiful. I'll make sure to have some JD and some [CENSORED] on hand when you guys head out west.
M
:
Excellent. [Laughs]
GDD
:
Okay and last but certainly not least … do you guys dance dirty?
Z
:
I try to.
GDD
:
It's the effort that counts!
M
:
I do.
I dance like this
.
GDD
:
Thank you so much for the time guys. Take care.
M
:
Pleasure.
PRINCE CLUB DECEMBER 2010 MIX
Kris Wadsworth – It's Time
Steve Bug – My Sweet Vital Angel
Satyr – Backup
Daniel Steinberg – Move your Body
Flavio Diaz – Blue
Prince Club – Movin 'On
Prince Club – Sax Bomb
Reboot – Ronson
Norman Zube – Ruido
Prince Club – Body Holly
Alex Niggemann & Superlounge – Play House
Sasha Carassi – Chemistry
Fergie – Shifty
Ketto – Bad Resonance
Paul Ritch – Jackson Flavour
Timid Boy – Entreat
Thomas Muller – Sunday Monday
John Tejada – Sweat On The Walls
Prince Club December 010 Mix Prince Club
Comments
Comments