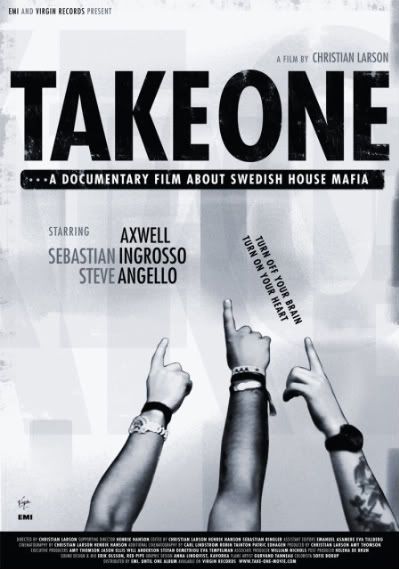 TAKE ONE
:
"
Turn off your brain, turn on your hea

rt."
2010 has proved to be a monumental year for electronic music, with the light casting down on the colossal force of the
Swedish House Mafia
. With the explosive success of their single 'ONE' earlier this year, the infamous trio have been spreading their noise and their name across the globe. The recent release of their documentary, Take One, is a culmination of the rise of SHM as a massive house movement and experience that covers 285 gigs in only 2 years across over 15 countries.
We were lucky enough to be sent an advance copy of the film from our good friends over @ EMI Records, and we couldn't of been more elated. Thinking we would only watch it once or twice before this 45 minute documentary would be out of our system, we underestimated the power of our own love. We literally have watched it at least 10 times now, addicted to the hedonistic journey through the nu-rockstar lives of
Axwell
,
Sebastian Ingrosso
and
Steve Angello
. It reminds us so much of how happy we are to be a part of this rapidly growing music industry. For you devoted electronic music enthusiasts and dirty dancers alike out there, this is a film
NOT TO MISS
.
From the on-stage euphoria of playing to entranced clubbers, to the buzz of realising a track in intimate creative sessions, to the inevitable bickering between the guys, TAKE ONE goes beyond the music to show what binds together three friends, three artists, three pioneers,
and three total individuals on an emotional ride to success as a group.
UNTIL ONE:
"
Goosebumps never lie."
For all those who have witnessed the performance of epic proportions that is a Swedish House Mafia set, you would imagine that their would somehow be a way to capture the energy and feeling you get while living the moment in the crowd. Finally, that prayer has been answered. With the premiere of the new film, SHM have released a soundtrack to the documentary called
Until One,
which really is a studio mastered version of their live dj set they've been showcasing this past year. If you've seen them live before then you'll know that their quote rings true with every heartbeat you feel during their performance … "
Goosebumps never lie." [Pick up the release here]
TUNAGE:
Miami 2 Ibiza (Static Revenger Mixes)
The most recent SHM, Miami 2 Ibiza, is featured in the beginning of the
Until One
album and is following graciously in the footsteps of the mega anthem, '
ONE
.' I personally didn't care too much for it until it was used to capture the immense feelings of house music sweeping across our country in the documentary. And it wasn't until we received the official remixes of the track by
Static Revenger
that I realized it was a version that could most certainly be added to any dirty electro big room set.
Dirty dancers – grab these for sure.
*
Visit the official SHM Site
HERE
Comments
Comments