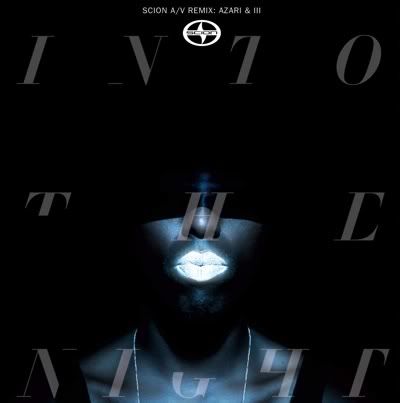 I bring you the latest offering from Scion A/V; a full EP release for Azari & III's most recent production, 'Into The Night.' The generous package is being released in full quality for free and contains a reputable remix roster including Nicolas Jaar, Renaissance Man, CFCF, and more. The Canadian duo is all about that Chicago House sound, and I must say it's definitely been hitting the spot for me. Grab the original and a couple of my favorite remixes below, and make sure to head over to Scion A/V to pick up the full release if you're into it.
Groovy, Chicago style with a side of sexy, soulful vocals. Mmmm.
This very talented young producer takes an eclectic, confident, piano-laden approach and makes 'Into The Night' his own. Big things coming for Nicolas Jaar and his Clown + Sunset label in 2011.
The Finnish power duo, Renaissance Man, takes 'Into The Night' and makes an epic out of it. Yes, the 10+ minutes of this are all necessary.
Check out the official music video below…

Comments
Comments