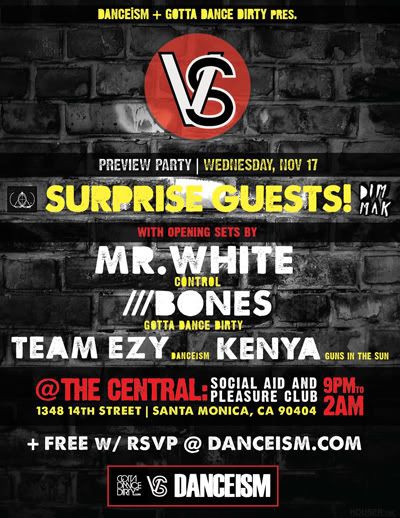 Dirty Dancers,
I'm proud to announce to you the start of something beautiful and electronic. We have come together with our dear friends at DANCEiSM to bring you the first Westside weekly in Los Angeles that will feature only the best in electronic acts, from local talent to secret surprise headliners each time that will keep you shuffling back for more. May I present to you…
VS.
This
Wednesday, November 17th
– We invite you to the exclusive preview party of our new weekly night, starting in 2011. With so many friends of GDD deep in the dance music game, we are so excited to host an event every Thursday of 2011 that will be full of surprises, rumors, lazers, bass, and much, much more.
The VS. party will be held @
The Central
: Social Aid & Pleasure Club
, a diamond in the rough in Santa Monica that looks like you are stepping into a speakeasy of the 1920s. The unique little venue clashes a prohibition atmosphere with one of the most undiscovered sound systems on the West Coast. Still confused? Think Boardwalk Empire + dance party.
1348 14th Street (Right off Santa Monica blvd and 14th st.)
With so many friends in the dance music community, Gotta Dance Dirty & DANCEiSM will clash surprise headliners each week against the local heroes of Los Angeles. With an arsenal of talent coming from our DJs and close friends, we have an endless amount of epic DJ sets coming for the new year. To see what we're talking about, you will have to come out this Wednesday night just to get a taste of the incredible lineups we have in store. This week, we have two very special guests from DIM MAK and GA records, who will be tearing up the sound stage alongside ///myself,
Team EZY (danceism)
,
Kenya (Guns In The Sun)
, and a special set from our local hero and Control Fridays resident
Mr. White
.
Unlike the other events going on in LA, we wish to produce a FREE event for our dirty dancers and the likes, so that you never have to worry about anything but your dancing shoes. All you have to do is:
• The VS. Party
(presented by GDD + Danceism)
• Wednesday, November 17th
• @ The Central: Social Aid & Pleasure Club
1348 14th Street | Santa Monica, CA 90404
• Drink Specials (including $3 PBR Tallboys ALL NIGHT)
Comments
Comments