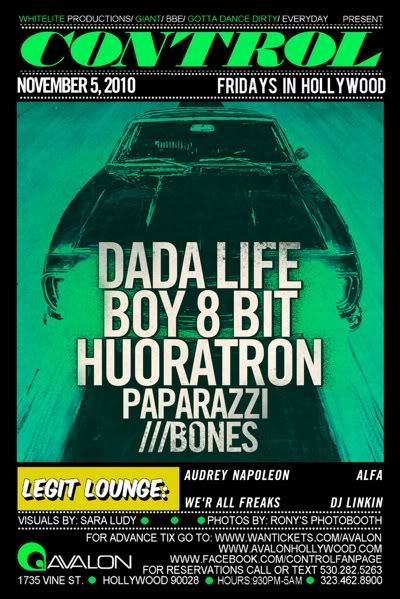 It's time to unleash the fucking Dada once again at CONTROL in Hollywood this Friday. The Swedish party boys have had quite a weekend in the Southland already the past few days, with appearances at both the Heaven & Hell event in San Diego and Sutra in Newport Beach, but they will be heading up the 405 to play this Friday alongside a quartet of serious supporting talent including Boy 8 Bit, Huoratron, Paparazzi, and ///BONES.
We will have a limited discount list this week, with only 150 people being allowed on our guestlist. To be fair, we can only take the first 150 names we receive. Email names to jonah@gottadancedirty.com. If you do not receive a confirmation email back from me, then you will not be on our guestlist this week. Getting a confirmation email still does not guarantee entry, and tickets will still be available for purchase at the Avalon box office on Friday night at 9:30pm.
Discount Pricing:
21+: $10 before 1030pm
18+: $15 before 1030pm
*remember the discount list does not guarantee entry as discount tickets may (and probably will) run out before 1030! Get there suuuuuper early and drink a 4Loco in the parking lot
Set Times:
1130-1am – Boy 8 Bit
230-330am – Huoratron
Tunage:
Unleash The F**king Dada (Original Mix) by GottaDanceDirty
Newest one by the boys. Expect to have the plaster blown off the walls of the Avalon when they play this on Friday. Pick it up on
Beatport
.
One of the best remixes of this track. Fresh off of the newest release from Turbo Recordings. Make sure you head to
Beatport
and pick up the entire Planet Turbo package.
And if you haven't picked up ///BONES' Halloween Mix yet, make sure you get it into you before his latenight set this Friday!
Comments
Comments