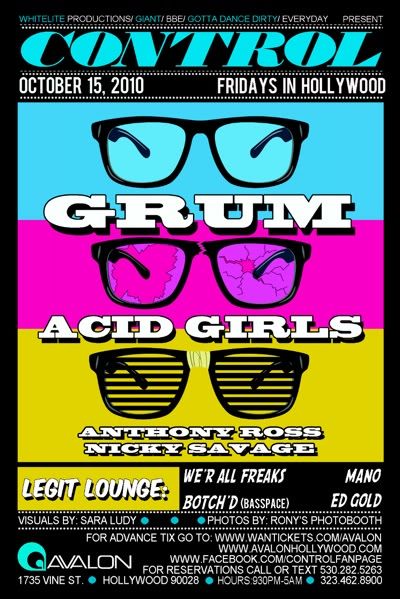 He's back! The groovy Scot will be making another appearance this Friday at CONTROL in Hollywood along with LA's own Acid Girls and GDD™ friendly and 1/2 of Bubblegum Sci Fi, Anthony Ross. If you have still yet to see one of GRUM's performances, I highly recommend coming out to this event. Prepare to dance like you are in slow motion in a wind tunnel, with seductive sounds ubiquitous throughout the ample-spaced Avalon.
Please RSVP names to JONAH@GOTTADANCEDIRTY.COM
to be on our discount ticket list for the night. All names must be submitted before 6PM on Friday night.
Pricing:
21+: FREE before 11:30pm
18+: FREE before 11:30pm
Make sure you get there early though, as once the discount tickets are gone you will have to pay full price!
Set Times:
10:30-12am – Anthony Ross
Tunage:
Comments
Comments