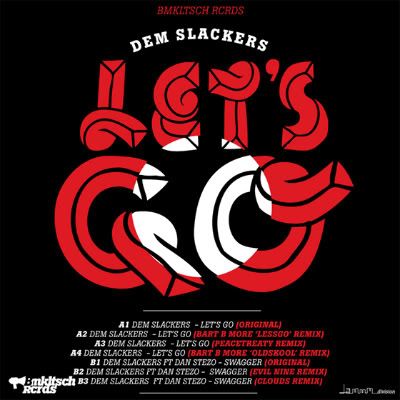 If you're usually oblivious to your surroundings (shoutout to Joelle) or just haven't had your adderall prescription filled lately then you might not have heard about the forthcoming Bart B More remix of Dem Slackers' new track 'Let's Go.' Now, my friends, is the time for you to start paying attention. This upcoming EP set for release on September 20th off Boemklatsch Records is so insanely packed with goodies it is bursting at the seams like Buddy Love's clothing when he turns back in to Professor Sherman Klump at the end of The Nutty Professor.
What is kind of surprising, albeit awesome, is that our good buddy Bart's stabs at 'Let's Go' are quite possibly second fiddle on the EP to two eighteen year old lads from Scotland. Rumor has it these kids worked at a McDonald's before the likes of Fake Blood and Tiga started playing their track out. Boys and girls, meet Clouds. Recently signed to Turbo you should be hearing big, big things from them in the near future.
Can't forget to mention that the fellas from
PeaceTreaty
(can these two do no wrong?) and
Evil Nine
bring outstanding efforts to the table as well.
Let's Go (Bart B More 'Lesssgo' remix) by Dem Slackers.
Let's Go (Bart B More 'Oldskool' remix) by Dem Slackers
Lets Go (PeaceTreaty remix) by Dem Slackers
Swagger (Clouds remix) by Dem Slackers
Matt Black AKA The Nu' Dirty Bastard.
Comments
Comments