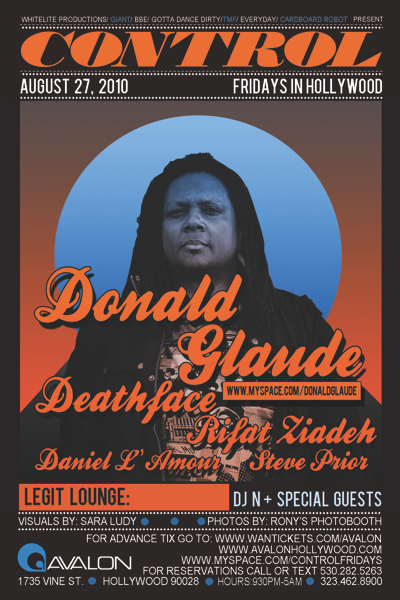 Legendary DJ and prominent party-starter Donald Glaude will be making some noise at CONTROL this Friday at the Avalon in Hollywood. I actually saw Donald's set at Playhouse earlier this summer with LA Riots, and let me tell you it was a loud one. I'd never heard a DJ use one before, but DG brought a truck horn along with him that shook the shit out of that club. I'm curious if he'll have that in his arsenal on Friday. Supporting Donald's headlining spot will be Trouble & Bass goth man Deathface, along with GDD™ buddy Rifat Ziadeh, Daniel L'Amour, and Steve Prior. Good times for all!
Please RSVP names to JONAH@GOTTADANCEDIRTY.COM to be on our discount ticket guestlist for the evening. Pricing will be as follows:
21+: FREE before 11pm, $10 after
18+: FREE before 11pm, $15 after
An oldie but goodie from our friend TJR.
New one from another fellow LA resident.
Comments
Comments