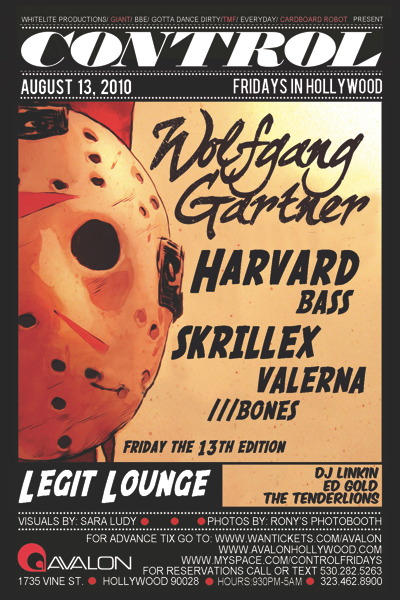 Oh Boy dirty dancers, do we have CONTROL Friday for you.
This week, we welcome two big room monsters that are backed by the incredible production they've quickly become known for. Undocumented Management's
Wolfgang Gartner
and
Harvard Bass
. If that wasn't enough to make you pass out, they will be supported by up-and-coming heavy hitters
Valerna
and
Skrillex
. And if that isn't enough reason to go, I have been given the closing set for this carnival of a friday night, and I would love if you could make it just so you can see me bouncing off the walls in excitement. The flyer is enough for me to start jumpin right now.
Now, make no mistake, this night is gonna be
FUGGING CRAZY
. Pre-sale tickets have already sold out, and apparently our guest list this week is going to be first come, first served. I can't stress enough to
RSVP NOW
and make sure you
SHOW UP EARLY
.
RSVP
to: JonahDancesDirty@gmail.com
21+
$15 before 11/ $20 after
18+ $20 before 12AM
…and heres your maximum tunage for the hype machine in all of us:
Comments
Comments