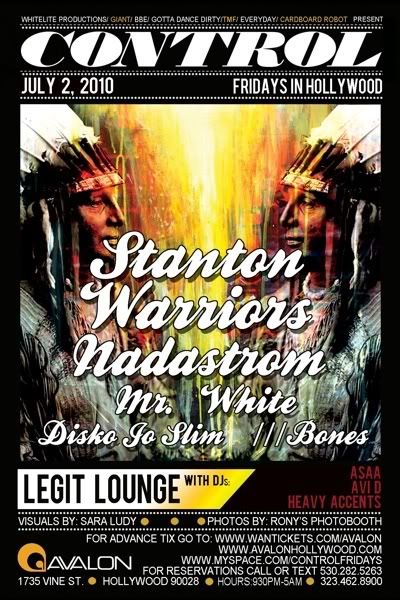 BLAU! Hope all of you kids had a good time this weekend out at EDC I know that much of the GDD crew did. It was awesome to meet so many of you that read our posts and support what we do and we really appreciate all the love. So now you LA people have 3 more days of recovery before the next massive show at the Avalon. The big time breakbeat enthusiasts known as Stanton Warriors will be making a CONTROL debut this Friday along with the bass heavy duo from DC known as Nadastrom. Neither of these acts were in town last weekend so get some fresh sets into your electronic veins.
Your pal
///BONES
will be mainstage this week as well, taking the reigns late night to throw down for you night owls.
Please RSVP names and pluses to jonah@gottadancedirty.com to be put on our discount ticket list for the evening. All guests enter through the left side Honey Lounge entrance. Pricing will be as follows:
-18+: $15 before 11pm
Dave Nada and Matt Nordstrom were kind enough to deliver us an exclusive mix to get you guys pumped for this week, and you know it's got some of that Moombahton in there.
– Pase Rock – "Nights" (Nadastrom Remix)
– Bingo Players ft. Lady Gaga – "Devotion" (Nadastrom Edit)
– Shiny Toy Guns – "Ricochet" (Nadastrom Head Spin Dub)
– Nadastrom – "Save Us"
– Nadastrom – "Ghetto Pass" (LA Riots Remix)
– Congorock ft. Mr. Lexx – "Babylon"
– Nadastrom ft. South Rakkas Crew – "Squarez" (Nadastrom's Get Mad Edit)
– AC Slater ft. Ninjasonik – "Take You" (Nadastrom Remix)
– Benny Bennasi ft. Kelis, Apl.De.Ap, Jean Baptiste – "Spaceship" (Nadastrom Remix)
– Mele – "Bombay" (Nadastrom Remix)
– Blaqstarr – "Tote It"
– Fugative – "Crush" (Nadastrom Remix)
– Udachi – "Pfunk Skank" (Nadastrom Remxi)
– Blaqstarr – "Get Your Handz Up" (Nadastrom Limbo Remix)
– Silvio Ecomo, DJ Chuckie – "Moombah" (Afrojack Remix)
– Nadastrom – "Be Faithful Moombahton" (Crooklyn Jacked Edit)
– Dave Nada – "Moombahton"
– Dave Nada – "Riverside" (Moombahton Edit)
– Yeah Yeah Yeahs/A-Trak – "Heads Will Roll" (A-Mac Moombahton Edit)
– Steve Starks – "Lydia" (Nadastrom's Moombahton Remix)
– N.A.S.A. ft. M.I.A, Santigold, Spankrock. – "Watchadoin" (Uncle Jesse Moompatron Edit)
– Mu-Gen – "Fizzdom" (Munchi Moombahton Remix)
– Tittsworth ft. Kid Sister, Pase Rock – "WTF" (Nadastrom's Crazy Edit)
– Lil Wayne – "A Milli" (Nadastrom Remix) oldie but goooooodie!
– Art vs. Science – "Parlez Vous Francais" (Nadastrom Remix)
BONUS!
In the comments section, write your best story about EDC last weekend and whoever has the craziest, most ridiculous story will get two tickets to the show on Friday. Even if you don't want tickets and just want to write a nutty story, please feel free to do that too.
Comments
Comments