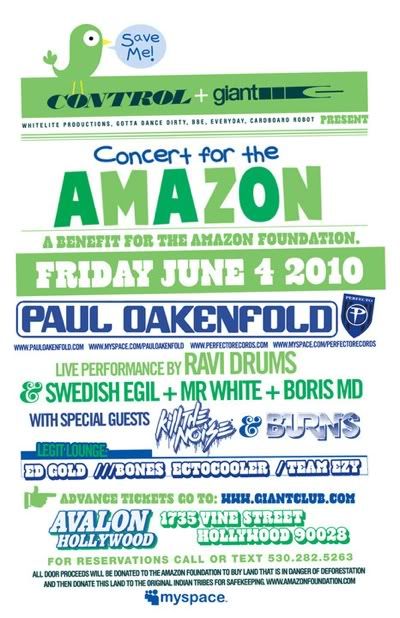 There is a special benefit at the Avalon this Friday to prevent deforestation in the Amazon jungle in South America, and who else would be better to throw down for saving some trees than the legendary PAUL OAKENFOLD? For those of you that just started listening to electronic music yesterday, Paul has been a visionary for the scene for over 20 years and continues to blast people away with his hair-raising, skin-tingling sets from Vegas to Ibiza every year. I commend the people of the Amazon Foundation for their efforts and helping put all of this together, so please come out and support because all proceeds from the night will be donated to purchasing land that is in danger of deforestation and will be given to local native tribes for preservation.
*UPDATE!:
BURNS
and
Kill The Noise
just added to the lineup. Yes, now you
have
to go.
Please RSVP names to JONAH@gottadancedirty.com to be on our discount ticket list for the evening. Entrance for all of our guests (18+) will be through the left side Honey Lounge entrance. Pricing will be as follows:
•21+: $15 before 11pm $20 after
•18+: $20 before 11pm $25 after
For tunage this week, I bring you a BBC Radio 1 Essential Mix from 1999 recorded in Havana, Cuba by Mr. Oakenfold. Cheers to Mr. Jonnie Sax for giving me the heads up.
Tracklisting:
01. Alena – Turn It Around (Unknown Remix)
02. Love Tattoo – History Of Disco Part 2
03. Angel Moon – He's All I Want *bones added
04. Antidote – Eclipse
05. Karen Ramirez – Lies (Tilt Trinity Mix)
06. Tilt – Invisible (Tilt Human Mix)
07. Prism – Innerscape
08. The Auranaut – People Want To Be Needed (Planet Heaven Mix)
09. V-Tracks – Heretic Voices
10. The Sneaker – Scatterbomb
11. Underworld – Push Upstairs
12. New Order – Confusion (Pump Panel Reconstruction)
13. Amoebassassin – Piledriver (Original Hurricane Mix)
14. Lex – Vertical Horizon
15. Salk Tank – Dimension (Salt Tank Voices Of Reason Mix)
16. Mike Oldfield – Far Above The Cloud (Jam & Spoon Deep Inside The Club Mix)
17. Gouryella – Gouryella
18. The Source – Fly Away
Comments
Comments