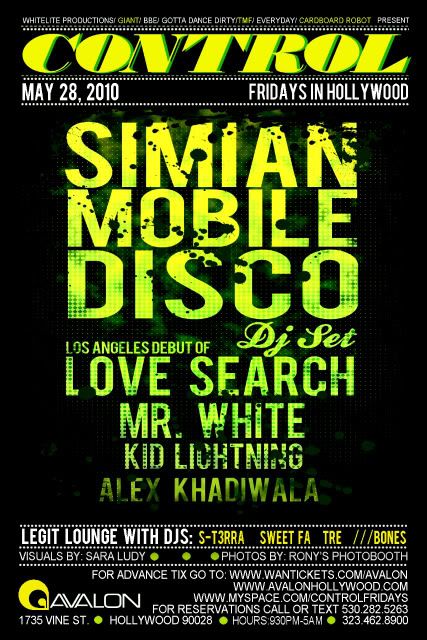 If you've ever been to a Simian Mobile Disco show, you know that your in for a treat. Coming off incredible new releases 'Cruel Intentions' and 'Aspic' – not to mention a huge essential mix in January, SMD is back in Los Angeles this friday @ CONTROL to give us a wild ride through what they have in store for this year – here's what the boys had to say on Radio 1:

"2010 is gonna be a year for us of no vocalists at all… strictly instrumental, unpleasant techno."
Here's a quick fix to get you ready to for what's in store this friday:
RSVP: JonahDancesDirty@gmail.com
$15 before 11pm // $20 before midnight
REMEMBER TO ENTER THROUGH THE HONEY LOUNGE Entrance!
In the Honey Lounge:

S-T3RRA / SWEET FA / TRE ///BONES
(Far left side entrance of the building, don't deal with the main entrance hecticness…)
SEE YOU DIRTY DANCERS THERE!
Comments
Comments