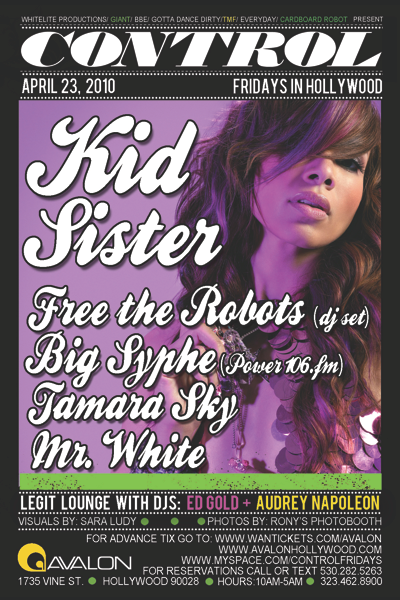 Hello again GDD™ nation. I am back from the desert and have regained full brain function once again. For those of you I met out there, thanks so much for all of the kind words it was so awesome to know that we have such great supporters of the site. If any of you guys still have Bangduck ringing in your ears like I do and are ready to dance again this weekend, come on out to the Avalon in Hollywood this Friday for a headline performance by Kid Sister and supporting DJs Free The Robots, Big Syphe, GDD friendly Tamara Sky, Mr. White, and your favorite GDD mixtape maker ///BONES who will be throwing on some hard ones at the end of the night for all of you kids that like to stay up late.
Please RSVP at JONAHDANCESDIRTY@gmail.com to be on our discount ticket list for the night. Pricing will be as follows:
-21+: 10$ before 10:30 15$ after (Enter through left side Honey Lounge entrance)
-18+: 15$ before 10:30 20$ after (Enter through main central entrance)
Tamara Sky sent us over a wonderful 40min mixtape for all you guys:
Track List:
The Black Ghosts – Repetition (Diplo Remix)
Friendly Fires – Paris(ft. Au Revoir Simone)(Aeroplane Remix)
Hercules & Love Affair – Raise Me Up
Calvin Harris – Colours
Ghostland Observatory – Sad Sad City
Sia – Buttons(CSS Remix)
Lykke Li – Little Bit(CSS Remix)
Passion Pit – Little Secrets(Hey Champ Remix)
The Golden Filter – Solid Gold
80Kidz – Miss Mars
Ladyhawke – Paris Is Burning(Cut Copy Remix)
Sébastien Tellier – Kilometer(A-Trak Remix)
The Virgins – Rich Girls(Le Castle Vania's Remix)
Cut Copy – Hearts Of Fire(Holy Ghost Remix)
The Rapture – I Need Your Love
La Roux – In For The Kill(Lifelike Remix)
Vitalic – Poison Lips
Empire of the Sun – Walking On a Dream(Treasure Fingers Remix)
Señor Stereo – Unintentional ft. Danny Daze
Midnight Juggernauts – Shadows
Santogold – L.E.S. Artistes(Left/Right Remix)
Surkin – Next Of Kin(Todd Edwards Re-Kindled Mix)
Hey Champ – Cold Dust Girl(Zebo Remix)
PS: Happy Holidays I hope you're all seeing
green
.
Comments
Comments