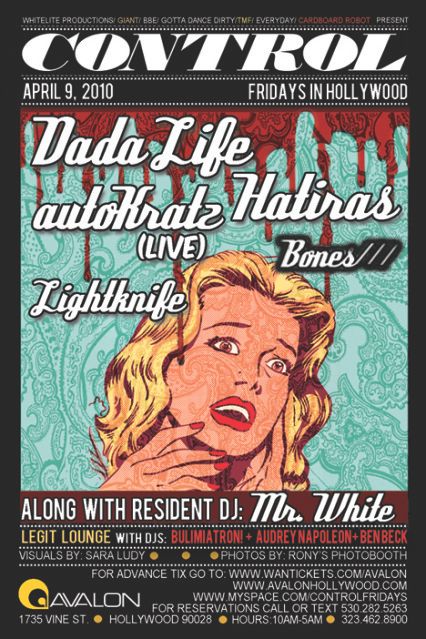 It'd finally happening! After months of busting our dirty dancin butts to make CONTROL Fridays @ The Avalon the best most consistently awesome weekly in LA for electronic music, I have finally have won the respect to play on the main stage, and a glorious closing set at that. And even better news, the lineup this week is fucking incredible. We have a barrage of dance goodness, with as follows: Opening acts by Lightknife, a live set by autoKratz, the awesome Dada Life headlining, a follow up set by the monstrous Hatiras, and ///yours truly to close the night off from 3am-4am. My my my LA, are you in for a night of madness.
If your in and around Los Angeles, please come out to this amazing lineup of talent, but more importantly watch me burn down the Avalon's main stage for the first time ever. I've waited so long for this, and I'm gonna make sure to leave a quake in the dance floor after I'm done with that sound system. This friday is gonna fucking go off.
RSVP
to:
JonahDancesDirty@gmail.com
21+ $10 before 11pm/$15 after
18+ $15 before 11pm/$20 after
Furthermore, we also have our GDD familiars from
MileHighDisco
known as LONDON DUNGEON (Beatport/Denver, CO) playing in the Legit Lounge, along with blog-tastic phenom
BULiMiATRON!
So wherever you are in the billin' – the chuunes will be massssssive. Get your fix with these bumpers, and make sure you get your dirty dance on this friday with us @ CONTROL.
Comments
Comments