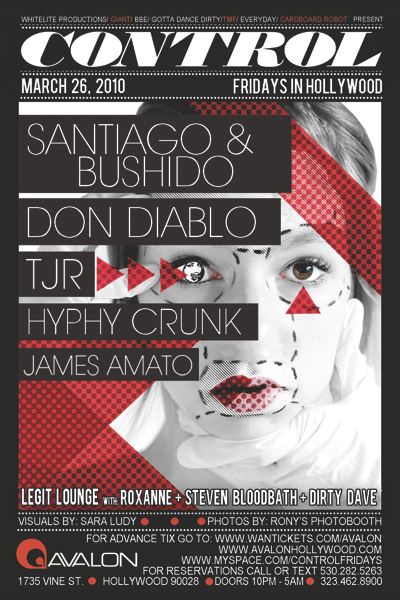 For those of you not able to make the trek out to Miami next weekend, don't fret for there will be a killer show at the Avalon, just like every Friday. Headlining the night will be the Chicago native duo Santiago & Bushido, and if you've seen their DJ sets before you know what a flawless performance those guys put on. Supporting S&B will be blog phenomenon Don Diablo. I'm actually a bit bummed that I won't be able to make it this Friday as I've wanted to see this guy for a long time, and his recent collaborations with Sidney Samson have been absolutely killer. So wipe that Miami-less frown upside-down and come shake it in Hollywood next Friday.
As always,
please RSVP and send names to JONAHDANCESDIRTY@gmail.com
to be on our discount ticket list. 21+ enter through the left side Honey Lounge entrance and youngsters enter through the main central entrance. Pricing will be $10 before 11pm and $15 after so get there early and have a drink
Tunage:
Crunchy little synth action in this one. Hipster stomp at the ready.
Get in that nu-disco Delorean with Dr. Schlongo and ride back in time.
Comments
Comments